How to Make Homemade Deodorant Bars
This post may contain affiliate links (full disclosure policy). As an Amazon Associate, I earn from qualifying purchases.
Are you looking to make your own deodorant? This homemade deodorant is cheaper than natural store-bought deodorant and actually worked for me!
I've steered clear of homemade deodorant bars for years. There was just something too crunchy about it. I thought it could never work as well as my mainstream deodorants and, of course, I didn't want to be stinky. So what changed my mind? My kid.
10 EaSY WAYS TO FEEL HEALTHY - EVEN IF YOU'RE NOT SUPER FIT!
Are little ones making it harder to find time for a healthy lifestyle? Wish you had more motivation? Here are 10 simple ways to get started feeling great that you can implement in just one day!
After having to start eating dairy-free due to some tummy problems she was having, it became glaringly obvious how much junk was in all the food I put in my mouth and the products I put on my body. Sometimes when I carry my little girl in the Tula, she gets her little fat fingers wedged under my arms, and then later those fingers go in her mouth! Which is kinda gross as it is (but hey, she's a baby), and even more gross when I think that she could be eating deodorant remains.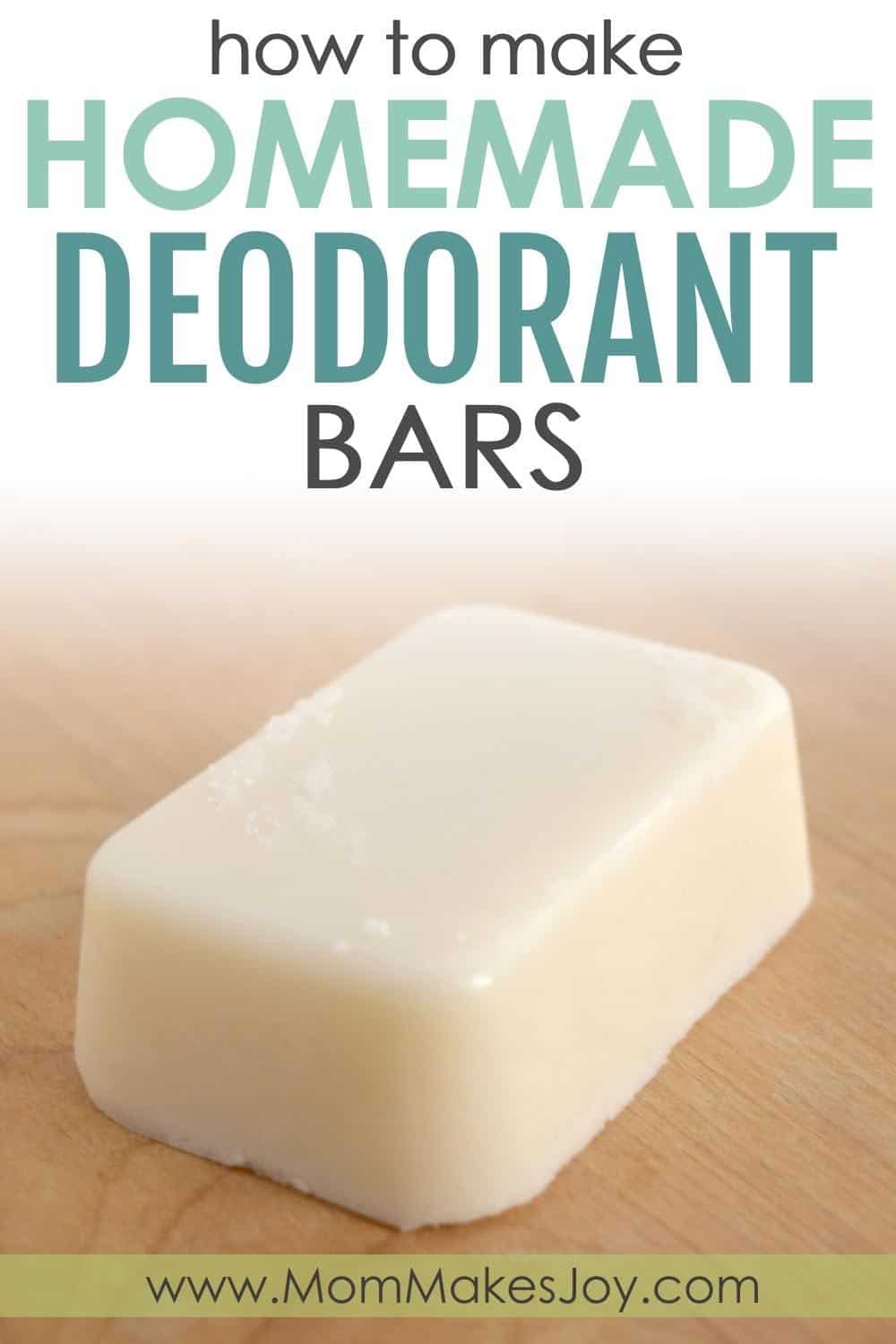 I looked into what was in my deodorant (which is also an antiperspirant) a little more closely and found all sorts of things that made me cringe when I thought they might end up in my baby's mouth. I don't believe in "detoxing" (that's what your liver is for), but there is something really freeing about knowing your body is clear of the junk and gunk sometimes found in the things we buy.
So are you on board yet?? Even if you don't care about the health benefits of more natural products (I didn't for a long time), these homemade deodorant bars are still really fun to make and a MUCH cheaper alternative to the 2.5 oz $6 deodorant sticks sold at your local naturals shop.
YOU WILL NEED: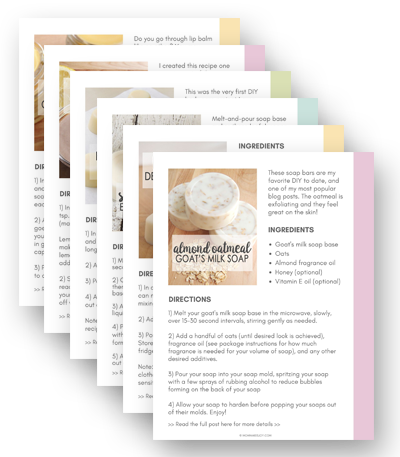 Want a copy of the DIY bath & body recipes my readers love most?
Get my top 6 recipes in printable PDF format sent straight to your inbox!
If you want to get really fancy, you could also reduce your beeswax to closer to .5-1 ounces or even omit it entirely and add cocoa or shea butter in its place. Alternatively, you could omit the beeswax and/or butters altogether and use this as a more liquid paste sort of deodorant, but I found I absolutely couldn't stand the greasy armpit feel of that, so I needed a solid bar. Note: Very yellow beeswax, shea, or cocoa butter may stain clothes; purchasing white versions helps with this. Buying many of these ingredients in bulk means each bar costs less and you will be good for deodorant for a long time!
It is also helpful to have a double boiler (or a glass bowl over a small saucepan), a digital scale of some sort for weighing out your beeswax/butters (like this one), and a mold for your bars. I used this bar mold and it's a great size. The bars are smaller than your traditional soap size, and this recipe makes about three of them.
Step 1. Melt down your beeswax/butters in a double boiler. If you're using my makeshift double boiler, fill your sauce pan with just enough water to bubble lightly without the bottom of the bowl touching the water.
Step 2. While it's melting (it will take a few minutes), mix together your coconut oil, arrowroot powder and baking soda. Some people are sensitive to baking soda on the skin. If you are one of those people, use closer to 2 Tbsp baking soda or omit altogether and add additional arrowroot powder in its place.
Step 3. Add your coconut oil mixture to your melted beeswax/butters and allow it to melt, stirring occasionally. Beeswax can be messy, so I recommend stirring with a thin stick (like a coffee stirring stick) that you don't mind just tossing when you're done.
You will need to play around with your ratio of beeswax/butters to coconut oil. This is where things are more of an art than a science. Unfortunately you will have to wait for your bars to solidify before you can be sure of how hard they will turn out, but if you are unsatisfied with the hardness of your bars you can always melt them down as you did with the beeswax/butters and add more beeswax/butters or coconut oil as necessary until you get a firmness you're comfortable with. I ended up having to do this and didn't take exact note of how much extra coconut oil I added, but I believe my ratio was closer to 1.5oz beeswax to 6.5 or maybe even 7 oz coconut oil. Note: You basically want to use as little beeswax/butters as possible while still keeping your bar firm.
Step 4. Gently but vigorously stir your melted mixture so that the arrowroot/baking soda particles are evenly mixed in (they will want to sink to the bottom) and carefully pour your mixture into your mold. Allow bars to cool completely before removing them from the mold. I recommend placing your silicone mold on a cookie sheet or large cutting board before pouring your mixture in order to make it easier to carry your bars over to the fridge, where you can expedite the cooling process.
To clean: As I mentioned, beeswax can be messy as heck to clean off. Do NOT pour any remaining wet beeswax down the drain! The easiest way I found to clean my bowl from beeswax is to fill it with boiling hot water, allow the beeswax to melt, and then let the water return to room temperature. From there, pour your water in a strainer to catch the now re-solidified parts of beeswax and toss those in the trash. Your bowl will have a film on it still but will be a lot easier to clean with soap and hot water.
I store these in a glass (because I'm really starting to hate plastic) container on my dresser, with a lid over it to prevent dust and whatnot getting on my bars. I've been using them about three weeks so far and still have 2 and a half bars left. I prefer bars to deodorant tubes, since the arrowroot powder/baking soda components tend to sink to the bottom. When these are in bar form, the top of the bar is a bit more grainy, but if these are applied more like a stick and less like a bar of soap, you will be an even mix of everything on the skin.
I find these work best applied once in the morning and once at night before bed. If you use tea tree oil in your bars, you may be able to get away with just once in the morning, since tea tree oil has especially good odor-fighting, antibacterial qualities. You will notice you WILL sweat a lot at first when you use these, especially if you're used to an antiperspirant. This should subside quite a bit after just a few days–I actually sweat less using these. Embrace the sweat, though, because it's good for you! Your body was designed to excrete sweat for a reason. You just don't have to be smelly while it happens :)
Have you ever tried homemade deodorant? It's awesome! But in case you don't have time to make your own natural deodorant, be sure to check out these options:
10 EaSY WAYS TO FEEL HEALTHY - EVEN IF YOU'RE NOT SUPER FIT!
Are little ones making it harder to find time for a healthy lifestyle? Wish you had more motivation? Here are 10 simple ways to get started feeling great that you can implement in just one day!
If you enjoyed this post, be sure to check out our digital library of helpful tools and resources that help you organize your life, connect with your kids, focus on your well-being, and love being at home.