Blog Income Report – December 2019
This post may contain affiliate links (full disclosure policy). As an Amazon Associate, I earn from qualifying purchases.
I've been blogging for almost 7 years, and this is my very first income report.
Why haven't I done one of these sooner? Mostly because for a long long time, my blog was just a hobby. I mean, it's still a hobby. But back then, I didn't have specific goals to make money. When I did, my objective was to make just enough for the blog to pay for itself. And maybe enough to buy a coffee or nail polish or something with the leftovers.
Find MORE TIME TO DO WHAT YOU ENJOY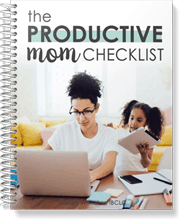 Feel like your to-do list is looming over you? Our Productive Mom Checklist gives you 10 simple ways to boost productivity so you can have more free time to spend doing things you actually enjoy! 
That meant I'd need to make something like $10 a month to pay for hosting, my blog backup service, maybe my email provider. When my blog got bigger, that number rose to only about $20 a month.
For a long time, that was all I aspired to. So it was all I made.
It wasn't until a random post about Pumpkin Spice Krispie Treats went semi-viral in the fall of 2014 that I realized maybe this blog could be something that brings in real money.
But babies have a way of taking over your life, so when I got pregnant with my first in the spring of 2015, I all but shut the blog down completely. Diabetic pregnancies are a lot of work, ya'll. And new parenthood is no joke.
But I arose from the ashes like a Phoenix and started Elite Blog Academy 3.0 when it was released in March of 2017. It made me realize I desperately needed a blog rebrand. The soap creations and DIY bath & body products I was blogging about at the time were fun to make, but they weren't my passion. EBA helped me find my new focus. And thus, Mom Makes Joy was born!
Unfortunately, it meant I needed to almost completely start over from scratch with my email list and content creation, and my pageviews dropped significantly. Turns out my former audience of women largely over 50 weren't all that interested in what my favorite baby carrier was. Whoda thunk, right?
It felt like 10 steps backwards, but I knew it was for the best. I got my pageviews up and was accepted by Mediavine, a popular ad network that pays well but only accepts members with a certain level of website traffic. Things were looking up!
Aaaaaaand then we decided to have another baby.
The blog collected dust for months. Again.
Except this time? This time I was making a decent chunk of passive income the whole time! So when I picked up blogging again a few months after my second was born, I didn't feel like I was starting over. But I also didn't have a lot of time with two kids and dreams of becoming a lactation consultant and eventually a nurse practitioner, so I just blogged when I could find the time.
So when I added up my income for 2019 and found myself looking back at a small 5 figure number, I was floored.
Where did that come from? If I could make that without having any kind of real strategy in place, what could I make if I was a little more intentional?
So that's why you're here, reading this now. I decided to create a special group for mamas interested in following my blog journey, where I share my behind-the-scenes plans and goals for this here slice o' the web, as well as my income and tips for how to get started.
Here's the deal, though: I'm not a super successful, makes-six-figures-a-month blogger. I'm in the trenches with you, figuring things out as I go.
I suck at emailing my subscribers consistently. My on-site conversion rate needs work. I have no relevant background in business or copywriting, and no real claim to fame. So why do you want to bother with what I have to say?
Because I'm just like you! Or if you're new to blogging, I was just like you.
I didn't have some special skill or secret that helped me get to this point. I'm pretty good at Googling things when I have questions. I'm extremely picky about the tools I invest in as a blogger. That's about it.
If I can do it, you can do it.
Let's dive in, shall we?
MY DECEMBER 2019 BLOG STATS
Pageviews: 53,831 (up from 52,592 in November 2019)
Sessions: 44,694 (up from 44,171 in November 2019)
Unique Users: 38,260 (up from 37,762 in November 2019)
Email Subscribers: 2,385
A couple things. First, this kind of traffic is not to be expected as a brand new blogger. It's normal and expected to be getting pageviews in the hundreds–not thousands–or lower as a brand new blogger. Don't use my first traffic stats report as a metric for where you should be as a new (or newer) blogger.
Second, note the traffic dip on Christmas Eve and Christmas Day. Big holidays do that.
Third, part of my traffic "success" (success is relative) is luck leftover from when I started blogging back in 2013. I have pins still circulating around Pinterest that gained traction long before the new algorithms drained the wellspring of web traffic that Pinterest used to be.
Pinterest is still a great way to get traffic to your blog, but the way to do it has changed a LOT even in just the last year. It used to be that you could pin something to a big group board and the traffic would just flow. Not anymore.
Because of this I'm wary of established bloggers using their personal Pinterest success as evidence that their Pinterest strategy (which is sold in their course) really works. One thing I really need to do in 2020 is figure out a Pinterest strategy. Right now I'm pinning literally nothing.
Even so, most of my traffic comes from Pinterest. But I've noticed recently I've been having more and more traffic come from search engines. It used to be that like 90% of my traffic was social. Now look at it:
This is why in 2020 I hope to spend some time learning more about SEO (search engine optimization). I have a sneaking suspicion that SEO (which has always been important) is going to start mattering more than ever soon.
Lastly, here's something I HATE to admit: My traffic is good this time of year because all my old blog posts from back when I was a crafty/soap blogger are still up, and DIY soaps/body scrubs make great gifts!
I completely expect my traffic to plummet in January. It always does. I'm going to need to figure out a way to stop the bleeding.
Or, better yet, I'm going to need to figure out a way to make money that doesn't depend so much on traffic.
MY DECEMBER 2019 BLOG INCOME
Mediavine Advertising Revenue: $1,129.59
Amazon Affiliate Revenue: $195.46
Etsy Revenue: $152.97
Product Sales (Gumroad + Payhip): $211.00 + $9.00
TOTAL: $1,698.02
My Mediavine income is my saving grace. Unfortunately, it is almost entirely dependent on traffic. And traffic can go as easily as it comes. I also have a higher RPM in December. I'm not sure I entirely understand what RPM actually is, but from what I can gather it affects how much money I make when someone clicks on (or views?) my ads. In December, I make more money per click (or view?) than I do in January. So I expect my Mediavine revenue to drop in January because of this, and also because of lower traffic in January generally.
My Etsy shop does okay this time of year thanks to a couple of listings that are holiday related (chalkboard gift tags and these coupons that make for a great gift year round). I set up my Etsy shop a couple years ago and don't do anything with it. You'll see the income in my reports, but I don't plan to do much with the shop in the future to be honest.
Last year I launched a couple of small products that have brought in a tiny bit of revenue. My Tired Mom's Guide to Breastfeeding has done the best, but I need to expand my product offerings if I want to diversify my income. Later this year I plan on revamping some old products and developing new ones. And I really need to learn everything I can about product launches, the idea of which currently makes my stomach turn.
I'll also be switching over from Gumroad to Payhip as my new sales checkout provider. It allows you to cross sell and have a "cart," so customers can add things to it and check out once instead of every time they want to buy a product. Payhip also has a free plan, which is perfect for me right now, since my product sales are pretty limited.
MY DECEMBER 2019 EXPENSES
Etsy Fees: $17.40
Gumroad + Payhip Fees: $11.06+$1.15
[MailerLite (email provider): $21.00 or $252.00 a year]
[BigScoots (web hosting): $17.95 or $430.80 every 2 years]
[Blogvault (blog backup): $7.41 or $89 a year]
[Elementor Pro (landing page creator): $4.08 or $49 the first year and $36.75 every year after that]
[SocialPug (social sharing): $2.83 or $34 a year]
The Email Marketing Fairy: $29.00
Trelloing For Traffic: $24.00
TOTAL: $135.88
ACTUALLY PAID THIS MONTH: $82.61
A good chunk of my expenses this month come from product purchases that I plan to use to grow my email list in 2020.
Most of my big expenses (in brackets) are paid in bulk at other times of the year, but I broke it down here so you can see what it would look like if I paid per month.
My favorite tool on here is DEFINITELY Elementor Pro. Even their free version is super powerful. I use it to make all my popups, landing pages, and home page (which I need to redo, but that's not a priority right now). I love Elementor Pro so much I will probably devote a whole post to its adoration. Coming soon.
NET INCOME: $1615.41
BLOGGING LESSONS LEARNED THIS MONTH:
I need to spend more time throwing spaghetti at the wall and watching what sticks. End of story.
GOALS FOR JANUARY 2020:
1) I need to increase my on-site conversion rate. I think a large part of why it is so low is a lot of my traffic is people coming for my old DIY/crafty posts. So I need to figure out a way to leverage them (affiliate sales) while also increasing the rate at which people subscribe for my motherhood/parenting content. That means playing around with opt-ins and creating more content and revisiting affiliate link placement.
2) Email my subscribers consistently. I really suck at this. Sometimes I feel like I don't know what to say! I started to do more of a curated content style email newsletter in December, so I'm going to keep that up and see how it helps my open rates and ability to stay consistent with my emailing.
3) Develop a content creation workflow. A lot of little pieces goes in to publishing posts and I have NEVER been able to develop a system I can stick to. This might be more of a "year" goal than a January goal. Heh.
4) Come up with my Q1 and year goals and develop a plan to work backwards to accomplish them.
Find MORE TIME TO DO WHAT YOU ENJOY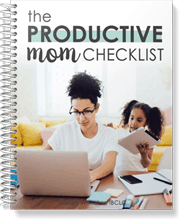 Feel like your to-do list is looming over you? Our Productive Mom Checklist gives you 10 simple ways to boost productivity so you can have more free time to spend doing things you actually enjoy! 
If you enjoyed this post, be sure to check out our digital library of helpful tools and resources that help you organize your life, connect with your kids, focus on your well-being, and love being at home.
You Might Also Enjoy: