Blog Income Report – February 2020
This post may contain affiliate links (full disclosure policy). As an Amazon Associate, I earn from qualifying purchases.
Ever wonder how a hobby blogger earns money from blogging? Here's how I do it! This is my income report for the month of February.
I am really excited about February's income report. At the beginning of the month, I was thinking I'd be lucky if I hit 80% of my income goal, but I wound up actually exceeding my goal a bit, even though February is a shorter month!
Find MORE TIME TO DO WHAT YOU ENJOY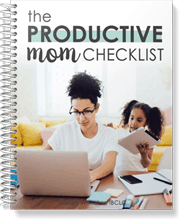 Feel like your to-do list is looming over you? Our Productive Mom Checklist gives you 10 simple ways to boost productivity so you can have more free time to spend doing things you actually enjoy! 
Let's dive in, shall we?
LAST MONTH'S GOALS – HOW DID I DO?
• I DID work on leveraging old traffic! I created an opt-in, my Top 6 DIY Bath & Body Recipes (available in my resource library), which readers can download on all of my old DIY Bath & Body type posts. I also brought back a free recipe card download I used to offer.
I was afraid to do this at first, because I didn't want to bloat my email list with people who were coming to my blog for content I don't write about anymore. But I realized a couple things.
First, according to my email provider, it does not hurt my email deliverability when people unsubscribe, so I didn't need to worry about this.
Second, there is indeed some overlap between my target audience (moms of littles) and the people coming to my blog for my old DIY content. And I had at least two people last month email me saying they found me through my old DIY content and stayed subscribed because they just became a grandma! Which made me realize something that should have been obvious: Moms never stop being moms.
Third, I can (and do) give these readers frequent options to unsubscribe. I made their welcome sequence (the series of emails new subscriber gets when they sign up) a little bit longer to help further weed out people who'd rather not hear from me.
Lastly, I also leveraged traffic to old content by attaching a tripwire to the opt-ins associated with this old content. I've made only a few sales with it, but that's a few more than I would have otherwise made! This way even if people unsubscribe later, I will have at least had the benefit of a mutually beneficial sales opportunity.
• I did NOT have time to begin working on a new product to attach to my best converting tripwire. Instead, I spent time making a couple of new opt-ins. They haven't converted as well as I'd hoped, but they still add value to my resource library and might convert better if I pair them with targeted blog posts.
• I DID email my subscribers about at least 1 product before Valentines Day and I'll be honest: It was a total flop. One $5 sale. However, it was a short flash sale and it weeded out subscribers who didn't want to hear from me.
• I did NOT email my readers once a week (*covers face in shame*). AAGGHH. Why is this so hard??
Now, on to the fun part: Stats and Profit!
MY FEBRUARY 2020 BLOG STATS
Pageviews: 47,149 (down from 50,298 in February 2019)
Sessions: 37,741 (down from 40,656 in February 2019)
Unique Users: 33,089 (down from 36,606 in February 2019)
Email Subscribers: 2,592 (+185 from last month)
A couple things of note here: My income this month was almost double what it was this time last year, even with several thousand fewer pageviews, sessions, and users!
I also realized that I have been counting email subscriber growth WRONG. This month's growth in email subscribers only reflects "active" subscribers who have gone through the double opt-in process. More on that in a bit.
MY FEBRUARY 2020 BLOG INCOME
Mediavine Advertising Revenue: $813.70 (up from $504.65 in February 2019)
Amazon Affiliate Revenue: $84.57 (up from $55.39 in February 2019)
Etsy Revenue: $41.35
Product Sales (Payhip): $156 (up from $7 in February 2019)
TOTAL: $1,095.62
My Mediavine income continues to be my biggest source of revenue, which makes sense as I haven't had a chance to launch any courses or create any products. My revenue this month was surprisingly high despite less traffic this month and a shorter month.
MY FEBRUARY 2020 EXPENSES
Etsy Fees: $4.05
Payhip Fees: $19.90
[MailerLite (email provider): $21.00 or $252.00 a year]
[BigScoots (web hosting): $17.95 or $430.80 every 2 years]
[Namecheap (domain registrar): $1.10 or $13.16 a year]
[Blogvault (blog backup): $7.41 or $89 a year]
[Elementor Pro (landing page creator): $3.06 ($49 the first year and $36.75 every year after that)]
[Grow By Mediavine (social sharing, formerly called Social Pug): $2.83 or $34 a year]
TOTAL: $77.30
ACTUALLY PAID THIS MONTH: $23.95
Once again I had basically no expenses this month. As always, fees taken from Etsy, Gumroad & Payhip are automatically deducted. And I didn't buy any products or blogging tools this month!
NET INCOME: $1,071.67
That's $490.29 more than I made this month last year!
BLOGGING LESSONS I LEARNED THIS MONTH:
I have been calculating my on-site conversion rate (number of new subscribers divided by the number of unique users coming to my page) WRONG.
For the last several months I assumed that my on-site conversion rate was 0.4-0.5%. Which is pretty abysmal (a decent conversion rate is 1-3% and a great conversion rate is 3-5%).
I have been banging my head against the wall trying to fix this, creating opt-in freebie after freebie, setting up landing pages and pop-ups (cringe) and adding subscribe forms in different places, doing everything I could think of to increase my on-site conversion rate. With the traffic I get, my conversion rate needed to be better!
And then, as I was writing this post and calculating my stats, I realized something.
Up until very recently I'd been having my email subscribers double opt-in. This means that once they put their name and email address in my subscribe form and hit send, they aren't subscribed until they go to their email inbox, open the confirmation email they get sent, and click confirm.
A HUGE portion of the people subscribing were never hitting confirm. So they weren't counted as active subscribers. When I searched for "unconfirmed subscribers," there were literally thousands of people who had signed up but never confirmed their subscription, so they never heard from me again.
When I looked at my email conversion rate for February taking into account all the "unconfirmed" subscribers, my conversion rate was actually closer to a much more respectable 1.7%! Room for improvement, but SO MUCH BETTER than I thought I was doing.
Here's the deal: One advantage of having subscribers double opt-in is that those who do tend to be the ones who are most interested in what you have to say and most likely to open, read, and click on your emails. Double opt-ins tend to create a more engaged list.
However, MANY successful bloggers have engaged email lists and do single opt-in subscribe forms. Plus, with a single opt-in, people tend to be more likely to purchase a tripwire because they are not distracted by the need to go to their inbox and confirm their subscription.
So for the month of March, I changed over to a single opt-in format. My list growth has improved substantially.
GOALS FOR FEBRUARY 2020:
1) Stop being afraid to email my list. I haven't emailed since I switched to single opt-in several days ago. I should probably aim to email even more often to get over this phobia.
That's going to be my only goal this month. I am currently studying for a BIG certification exam to become a full-fledged lactation consultant, and I REALLY REALLY just need to get over my email phobia!
Find MORE TIME TO DO WHAT YOU ENJOY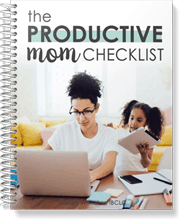 Feel like your to-do list is looming over you? Our Productive Mom Checklist gives you 10 simple ways to boost productivity so you can have more free time to spend doing things you actually enjoy! 
If you enjoyed this post, be sure to check out our digital library of helpful tools and resources that help you organize your life, connect with your kids, focus on your well-being, and love being at home.
You Might Also Enjoy: