Blog Income Report – January 2020
This post may contain affiliate links (full disclosure policy). As an Amazon Associate, I earn from qualifying purchases.
Ever wonder how a hobby blogger earns money blogging? Here's how I do it! This is my income report for the month of January.
Ugh. It's hard writing this.
It's hard because I decided to start sharing blog income reports to hold myself accountable for my blog growth, and this month is a painful reminder of how SLOW blog growth can be.
Find MORE TIME TO DO WHAT YOU ENJOY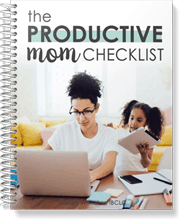 Feel like your to-do list is looming over you? Our Productive Mom Checklist gives you 10 simple ways to boost productivity so you can have more free time to spend doing things you actually enjoy! 
I have to remind myself that I am operating my blog as a hobby–not a full-time job–so I need to judge my progress through that lens.
As a type A perfectionist, it's hard to look at last month's progress and not feel disappointed and frustrated that I didn't do better when I know I'm capable of doing better.
Problem is, I have other commitments and goals to balance, too.
In addition to full-time momming, I spent this month reading through some dense textbooks, cover-to-cover, in preparation for the board certification exam for lactation consultants, which I take at the beginning of April.
Plus, as a mama with type 1 diabetes, my health has to be a priority. I spent good chunks of my time in January working out, training for my first 5K (which was so fun I signed up for a 10K in March), and cooking meals from scratch (or mostly scratch–I'm not perfect).
I know, I know. Even a good excuse is just an excuse. But these are mine, and I'm owning them as such. It's a tradeoff I'm willing to make.
That said, there are things that I know I could do more efficiently in order to have more time to devote to this here blog. But before I get into those, let's take a look at how things went this month.
MY JANUARY 2020 BLOG STATS
Pageviews: 49,911 (up from 48,521 in January 2019)
Sessions: 40,661 (up from 440,551 in January 2019)
Unique Users: 35,810 (down from 36,006 in January 2019)
Email Subscribers: 2,476 (up from 2,385 in December 2019)
My blog did about as well stats-wise this year as it did last year. I assumed based off my revenue that my pageviews would have been lower last year, but they weren't that much lower. Fortunately, metrics like pageviews don't necessarily matter that much when it comes to earning an income online.
It's pretty clear that my email subscriber growth is abysmal. I've known this for a while now. I spent some time this month working on some more opt-ins (freebies readers get in exchange for joining your mailing list) but I haven't found anything that really sticks yet. It's very frustrating.
MY JANUARY 2020 BLOG INCOME
Mediavine Advertising Revenue: $786.02 (up from 355.89 in January 2019)
Amazon Affiliate Revenue: $97.33 (up from $59.08 in January 2019)
Etsy Revenue: $10.85
Product Sales (Gumroad + Payhip): $143.50 (up from $25.46 in January 2019)
TOTAL: $1,037.70
What's interesting here is that despite my traffic being about what it was this time last year, my ad revenue was significantly higher! More than twice as high, in fact.
This is because (for reasons I don't totally understand, if I'm honest) my RPM this month was higher than it was this time last year. In other words, one ad click this month made me more than one ad click in January 2019.
MY JANUARY 2020 EXPENSES
Etsy Fees: $1.20
Gumroad + Payhip Fees: $15.44
[MailerLite (email provider): $21.00 or $252.00 a year]
[BigScoots (web hosting): $17.95 or $430.80 every 2 years]
[Blogvault (blog backup): $7.41 or $89 a year]
[Elementor Pro (landing page creator): $4.08 or $49 the first year and $36.75 every year after that]
[Grow (social sharing, formerly called Social Pug): $2.83 or $34 a year]
TOTAL: $69.91
ACTUALLY PAID THIS MONTH: $16.64
I had basically no expenses this month–fees taken from Etsy, Gumroad & Payhip are automatically deducted–which is one of the perks of making money online. You just don't have the same kind of expenses that come with brick and mortar businesses!
NET INCOME: $1,021.06
That's $567.79 more than I made this month last year!
BLOGGING LESSONS I LEARNED THIS MONTH:
• I need to be taking advantage of viewers coming to my blog for old content. Some of them are my ideal reader, I'm sure, but for whatever reason, I'm not grabbing their attention. Another blogger I follow sent an email last month with a brilliant idea for how to do this that I'm going to implement (see goal #1 below).
• I'm still bad at emailing my subscribers. I get paralyzed not knowing what to say. I need to FOCUS ON MY EMAIL LIST. Gah! Why is this so hard?
• You will spend the time you have. Or, at least, I do. In other words, if you give yourself 3 days to write a post, you will spend all three days. If you give yourself 2 hours, you'll spend 2 hours. I need to give myself less time to get things done, not more.
LAST MONTH'S GOALS – HOW DID I DO?
• I did create some new opt-ins this month, specifically my 7 Days of Self-Care for Moms challenge and a printable cheat sheet that goes with a new post I published. My on-site conversion rate still needs help.
• I did not email my subscribers consistently. Sorry guys. I need to have my emails written and scheduled in advance, or it is too easy to put off emailing until it never happens.
• My content creation workflow is still a work in progress. However, last week I worked on a post slowly throughout the week and was able to publish it without spending a huge chunk of time each day working on it. I was hoping to publish 3 posts last month, but I only got 2, one of which was an income report.
GOALS FOR FEBRUARY 2020:
1) Leverage traffic from old content (especially DIY bath & body posts from before the rebrand) by offering a new opt-in and creating an automation workflow to get rid of people who aren't my ideal reader. Hopefully this will help my email conversion rate without bloating my email list with people who don't want to be there.
2) Begin working on a new tripwire product for my best converting opt-in.
3) Stop being afraid to ask! Email my readers about 2 new products they might be interested in before Valentines Day.
4) Email my readers at least once a week.
5) Don't go on Facebook until I have made progress on something blog-related that week.
6) Use time spent breastfeeding to manually pin from Pinterest. Reorganize Pinterest boards and leave group boards that aren't helping me.
Find MORE TIME TO DO WHAT YOU ENJOY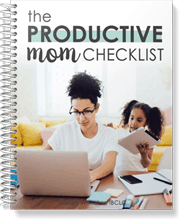 Feel like your to-do list is looming over you? Our Productive Mom Checklist gives you 10 simple ways to boost productivity so you can have more free time to spend doing things you actually enjoy! 
If you enjoyed this post, be sure to check out our digital library of helpful tools and resources that help you organize your life, connect with your kids, focus on your well-being, and love being at home.
You Might Also Enjoy: