Blogging Goals And Why You Need Them
This post may contain affiliate links (full disclosure policy). As an Amazon Associate, I earn from qualifying purchases.
This post was originally published in 2013 when I was a brand new blogger, but the points made here still ring true! Here is why blogging goal are so important, and a few of the ones I had as someone new to the blogging world.
Today at approximately 9:11pm marks the third week since this new blog went live. So far so good!
Things here have been super busy these last few weeks. I've come to believe that managing a blog, even a blog that has only been around for three weeks, is kind of like taking care of a pet. You have to feed it (new posts), play with it (that's why they're called link parties), take care of it (gotta clean out that spam box)–it's no easy task, but it is one that's easy to fall behind on.
Find MORE TIME TO DO WHAT YOU ENJOY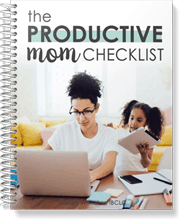 Feel like your to-do list is looming over you? Our Productive Mom Checklist gives you 10 simple ways to boost productivity so you can have more free time to spend doing things you actually enjoy!
As I approached this little three week milestone, it got me thinking: I got the blog up and running, I churned out some posts, got me some followers, so…Now what? Do I just keep…doing that? Is that it? That can't be it.
I started to think about the direction I wanted to take my blog, and in so doing had to put a lot of thought into how I would take my blog there. So I jotted down a few things I wanted to accomplish. I then scratched out those things and wrote new ones. And then I threw the whole paper away and started over.
The psychology student in me was intrigued, so I hopped onto an academic library database and did a little research. Here is what I discovered, and how I applied it to blogging…
WHY WE NEED BLOGGING GOALS:
To Jump Start Action
When you set a goal, the likelihood that you will end up taking meaningful steps towards that goal is above 90%. Furthermore, people who write down their goals are statistically more likely to accomplish them. Is it important to you that you post a certain number of times a week, learn more about photography, or grow your readership? Grab a pen and paper! Just setting those goals makes them more likely to happen. And the process of physically writing down your goals will make you more aware of what it is you truly want to achieve.
To Make Blogging (Even More) Satisfying
Research has shown that setting a goal can actually affect the satisfaction you obtain from doing the work necessary to accomplish that goal. And when you think about it, that makes perfect sense! We all enjoy success, and we enjoy knowing that we are on our way to it. Have you ever wanted to revamp a part of your blog but dreaded writing the code, the formatting, the proofreading–the overhauling? The parts that aren't necessarily super fun? Setting goals for your blog will not only help you undertake the project, but it can also make the process more enjoyable in the meantime!
To Create Manageable Blog Growth
This one's pretty obvious. So obvious, in fact, that I feel like it's often taken for granted—or overlooked entirely. Setting weekly, monthly, and yearly blog goals is critical to growing your blog, sustaining that growth over time, and doing it all in a way that isn't terribly overwhelming (let's face it–growing a blog is a monstrous task!). Setting milestones helps you stay on track and breaks down a huge blog projects into manageable, doable, smaller pieces. And if it's doable, you're more likely to actually do it.
To Measure Success
Once you've established your blogging goals you've also established a standard by which you can evaluate your progress. You're set up to better utilize the many channels of feedback available to you, and you can more narrowly focus your efforts on areas that actually need it. This kind of feedback–even feedback from comments and blogs that feature your content–is an important component of setting goals for your blog: it is critical to sustaining your motivation and your commitment to achieving the goal you set for yourself.
Anyway, I thought I would share with you all some of my long-term blogging goals for the rest of the year. I would love to hear your thoughts! It was kind of interesting watching the list evolve as I wrote this post. I started out with about 25 goals, but after lots of prioritizing, condensing, and revising, here is what I came up with:
MY BLOGGING GOALS FOR 2013
GROW MY CONNECTIONS. EARN FOLLOWERS. I've said it again and again, and I'll keep saying it. Connecting with others is why I blog. I love it! In the short time my blog has been up and running, I have met SO many fantastic bloggers from so many different walks of life with so much to offer the blogging world. I get a little giddy every time someone leaves comment on one of my posts because I love clicking back to their blog, seeing where they come from, and learning about who they are and what they're sharing with others.
In the next year, I want to earn more followers, and I would love to collaborate with some of these great bloggers, maybe even do a guest post somewhere. How shall I go about earning these lovely followers, you ask? This brings me to my next goal:
CREATE QUALITY CONTENT. This is a HUGE goal for me, and an area in which I have been struggling the last few weeks. In a blogging world with so many fantastic projects, recipes, tutorials, and tips, it is difficult to come up with creative content that both stands out and sparks reader interest. (Alex from Northstory wrote a fantastic post describing her frustration with this that is definitely worth a read.) So what's a girl to do? To answer this question I had to do a little soul searching, and here is what I discovered about myself as a blogger:
I originally started this blog with the intention of posting two to three times a week, but I realize now this goal is not feasible if I still want to have a life outside of my work and my blog, and it's not always conducive to producing the quality content I want to create. Which is why I plan to post just a little less often than I have aimed to in the past–instead, just once a week.
Doing so will give me more time to put together unique, well-thought-out posts I can be proud of on topics I am passionate about, and not holding myself to unrealistic deadlines will make blogging a lot less stressful.
BE REAL! Let's face it: I am not a domestic goddess. There are many nights I don't cook dinner, my apartment is a mess because when I'm not working I'm blogging, my life is not perfect and sadly, most times my blog projects aren't perfect, either! But these imperfections are what keep life interesting, and I'm strongly of the opinion that they keep blog posts interesting, too.
Building a relationship with your readers isn't much different from building a relationship with a person you meet in "real" life. You cannot build a meaningful relationship with someone without a healthy (read: not creepy) amount of self-disclosure. I want my posts to reflect more of who I am (not just what I do) and what I love (not just what bloggers in my niche are supposed to love). My favorite blogs are the ones that make me feel like I'm stepping into the blogger's living room to chat over coffee. In contrast, my last blog was little more than a collection of projects.
In other words, I want my readers to feel like they're stepping into my living room, not into my tool shed.
LEARN MORE ABOUT MONETIZING. I never originally planned to ever monetize my blog, but recently have found myself contemplating the idea. I don't want sponsorship to affect the integrity of my blog content, and I certainly don't want a barrage of advertisements attacking you from the page when you visit me here. But it sure would be nice to have my blog eventually pay for itself and to be able to offer my readers some awesome free stuff!
However, choosing, managing, and organizing sponsorships and giveaways and all that jazz is, from what I've read, actually quite time consuming. And after my experience attempting the move to a self-hosted WordPress site, I've come to really appreciate the importance of doing things at the right time. I want to be ready for those things when the right time comes.
DEVELOP A RELIABLE POST PLANNING SYSTEM. I don't want to feel cornered into sticking to a rigid schedule, but knowing what I'm going to post before I post it (and preferably weeks before I post it) would be kinda nice!
I have a rough idea in my head of what is going to happen here in the next few weeks, but I would kill or die for a nice blog planning binder! I have looked into some blog planning kits available online, but so far none of the ones I have found really give me exactly what I want.
Update February 2022: I have tried a boat load of blogging planners, and I've come to realize that I work best with simple pen and paper. That's right–I make hand-written lists! My blog is primarily a hobby, so I can easily get away with this.
Find MORE TIME TO DO WHAT YOU ENJOY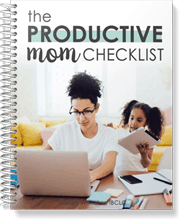 Feel like your to-do list is looming over you? Our Productive Mom Checklist gives you 10 simple ways to boost productivity so you can have more free time to spend doing things you actually enjoy!
SOURCES FOR THIS POST:
Gómez-Miñambres, J. (2012). Motivation through goal setting. Journal of Economic Psychology, 33, 1223-1239.
Judge, T. A. (2000). Promote job satisfaction through mental challenge. In E. A. Locke (Ed.), The Blackwell handbook of principles of organizational behavior (pp. 75–89). Malden: Blackwell Publishers.
Locke, E. A., & Latham, G. P. (2002). Building a practically useful theory of goal setting and task motivation. American Psychologist, 57, 705–717.
Locke, E.A., & Latham, G. P. (2006). New directions in goal-setting theory. Psychological Science,15, 265-268.