DIY Lotion with Easy Lotion Base
This post may contain affiliate links (full disclosure policy). As an Amazon Associate, I earn from qualifying purchases.
Hello Friends! I thought I would pop in for a moment and share with you my latest DIY body care creation using Stephenson Personal Care's Easy Lotion Base. I've always wanted to DIY my own lotions but I've not always been met with much success. Past lotion experiments have resulted in lotions that were too greasy, too thick for a pump dispenser, etc. My finished product was always just not quite right. Plus, creating a lotion with a solid shelf life can be difficult.
So when the folks at Stephenson invited me to try their Easy Lotion Base I was (as usual) thrilled to give it a whirl! Their lotion base is made with sunflower oil and enriched with vitamin E, so it's great for the skin and suitable for all skin types. It doesn't require any thickening, flows smoothly out of a pump dispenser and doesn't leave your skin feeling oily or greasy.
The best part? You only need THREE ingredients to create a huge range of lotions!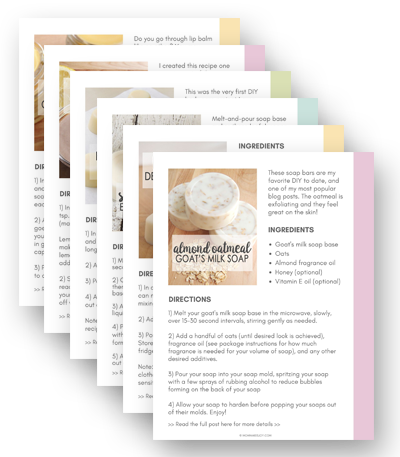 Want a copy of the DIY bath & body recipes my readers love most?
Get my top 6 recipes in printable PDF format sent straight to your inbox!
YOU NEED:
Stephenson's Easy Lotion Base
Soap Colorant
Fragrance Oils of your choice
Here's how I made four different lotions with just Easy Lotion Base, fragrance oils, and liquid colorant.
First, scoop out your desired amount of Easy Lotion base and place it in a small mixing bowl before adding your fragrance oil. The amount of fragrance oil to add will depend on the oil you're using; my fragrance oil called for five drops of oil per ounce of lotion base. Stephenson's Easy Lotion Base can be blended with a range of additional oils and it holds a scent very well.
Next, toss in your colorant. I used a liquid colorant that I've used in the past to color melt-and-pour soap, but it seemed to work just fine for lotions as well. Check the packaging that your colorants come in to see if it will work with lotion base.
I made four different lotions from my base and gave each one a difference scents. I recommend Brambleberry.com for purchasing fragrance oils and lotion-friendly colorants, but they can be purchased from a number of different online retailers. I picked mine up from a local craft store.
And that's all there is to it, friends!
I hope you enjoyed this tutorial! As usual, stay tuned for more!
Love,
Gabby
P.S. DISCLOSURE: This post contains affiliate links, meaning I will receive a small commission on products purchased through these links at no extra cost to you. I was not compensated to write this post; however, I did receive a free sample of Stephenson's Easy Lotion Base to use for this project. Rest assured, I only endorse products and brands I use, trust, and would recommend to a friend! Please see my FAQs and disclosure policy for more information. Thank you for supporting Mom Makes Joy! :)