Easy Rustic Carrot, Cucumber & Aloe Soap
This post may contain affiliate links (full disclosure policy). As an Amazon Associate, I earn from qualifying purchases.
This carrot cucumber aloe soap is packed with antioxidant properties and is sure to leave your skin feeling clean and amazing!
Hello Friends! I hope you're having a great week! I thought I would drop in and share with you my latest soap creation using a NEW and EXCLUSIVE melt-and-pour soap base by Stephenson Personal Care.
Made with carrot oil, cucumber seed oil, and Aloe Vera, Stephenson's Crystal CCA soap base really takes creative chemistry to the next level. Crystal CCA is a vegetable derived base rich in Omega-6 fatty acids, beta-carotene, Vitamins E, B1, C, and ProVitamin A.
This clever combination of ingredients combines an excellent skin feel, antioxidant properties, and soothing Aloe Vera to create a soap base that is just plain great for the skin. Plus, it is PEG free, Paraben free, contains no SLS or SLES, and has a vibrant natural orange color derived from the beta carotene found in carrot oil.
What's not to love!?
To create your very own set of rustic carrot cucumber aloe soap bars, you will need: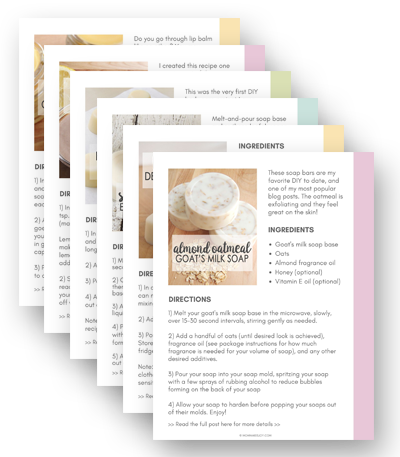 Want a copy of the DIY bath & body recipes my readers love most?
Get my top 6 recipes in printable PDF format sent straight to your inbox!
THE DIRECTIONS
First, melt down your Crystal CCA. My Crystal CCA came in Stephenson's new microwavable tub, so I popped that into the microwave and melted it down in 15 second intervals until my base turned to liquid. Melting your base down in these short intervals will help prevent the base from overflowing in your microwave, overheating and losing moisture, and from creating too many bubbles in your soap (bubbles can be pesky when your soap base isn't opaque!). When your base is melted, it will look something like this:
Next, add your fragrance oil and stir well! Working quickly, pour your base into your soap mold (I used a small 1lb loaf mold) and add your dried botanicals (I recommend calendula, personally, but used dried chrysanthemums here–I think they belong to the same flower family? Not sure. But I think calendula holds up a little better in soap long-term).
Your dried botanicals can be mixed into the soap, sprinkled on top, or both. When I sprinkled my botanicals on top of my wet soap base, I gently pressed them into my base just a bit to be sure that they would stay stuck to the soap base when my soap had finished cooling.
Leave your mold out to air dry for 1-2 hours before attempting to remove the soap from your loaf mold. To help ease the soap from the mold, I have found that sticking it in the freezer for about 10 minutes really does the trick!
From there, all that is left to do is slice your soap into bars. I used a crinkle cutter to do this–I love the look it gives!
Find MORE TIME TO DO WHAT YOU ENJOY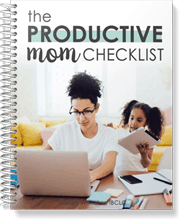 Feel like your to-do list is looming over you? Our Productive Mom Checklist gives you 10 simple ways to boost productivity so you can have more free time to spend doing things you actually enjoy!
If you enjoyed this post, be sure to check out our digital library of helpful tools and resources that help you organize your life, connect with your kids, focus on your well-being, and love being at home.