How To Fit In Exercise When You Have Young Kids
This post may contain affiliate links (full disclosure policy). As an Amazon Associate, I earn from qualifying purchases.
I have not always enjoyed exercise. In fact, for most of my life, I hated it. Here's how I learned how to make exercise a regular part of my life, and how I fit in exercise with young kids at home!
When people talk about how good exercise made them feel, how it energized them, it used to completely baffle me.
You enjoy gasping for breath? The physical pain of exertion? The stink and the sweat?
10 EaSY WAYS TO FEEL HEALTHY - EVEN IF YOU'RE NOT SUPER FIT!
Are little ones making it harder to find time for a healthy lifestyle? Wish you had more motivation? Here are 10 simple ways to get started feeling great that you can implement in just one day!
Exercise made me feel like crap. Like a sore pile of exhausted garbage. And for years, I called BS on this conspiracy to trick me into feeling miserable.
And then I was diagnosed with type 1 diabetes. And developed a complicated relationship with food. And gained over 30 pounds I couldn't lose to save my life. All before realizing that if I ever wanted to be a mother and give my unborn child the best start at life possible by having a healthy pregnancy, I was going to have to get over my intense dislike of physical activity.
READ MORE: 5 Things I Did to Lose 68 Pounds After Pregnancy
It didn't happen overnight, but it happened. I soon realized that the joy of exercise (at least for me) has nothing to do with how I feel in the throes of exertion and everything to do with how I feel afterward.
I still hate exercising, but I love having exercised.
It took practice to get to that point, and I had to rely on some important strategies, like making small commitments that wouldn't overwhelm me, mixing up my workouts so I don't get bored, and squeezing in physical activity whenever I had the time.
Now, even with a lot more workout experience under my belt, as a busy mom I still find myself needing to rely on all of those strategies to get my exercise in!
Because let's face it: It's hard to find the time and energy to work out when you have little ones climbing up your leg–like living, breathing ankle weights that poop.
If you find yourself struggling to get physically active as a busy mom, here's what I recommend:
How to Fit In Exercise When You've Got Young Kids
1) Work Out At Home
No, I'm not saying you can't or shouldn't go to the gym. If that's your thing and you can swing it, go to the gym!
But if you can work out at home, you might find that you save yourself time and money while simultaneously removing a major roadblock that keeps many moms from exercise: Inertia.
Exercise inertia is hard to overcome. It's hard to muster the initial energy and willpower–and potentially childcare–required to just set foot inside the gym. And if you're not able to, the whole workout never happens! If you can exercise at home, that's one less hurdle to deal with.
You don't need much equipment to work out effectively at home. A set of dumbbells, maybe, and even these are optional since you can do bodyweight exercises.
Here are some low cost equipment ideas to get you started (many of these are totally optional):
2) Involve the Kids
If your children are old enough, work out with them! Let them watch you, join in beside you, or use their little bodies as free weights! Play peek-a-boo while you do sit-ups, put a kiddo on your legs as you lift them, get creative! Remember that you're modeling a very healthy behavior.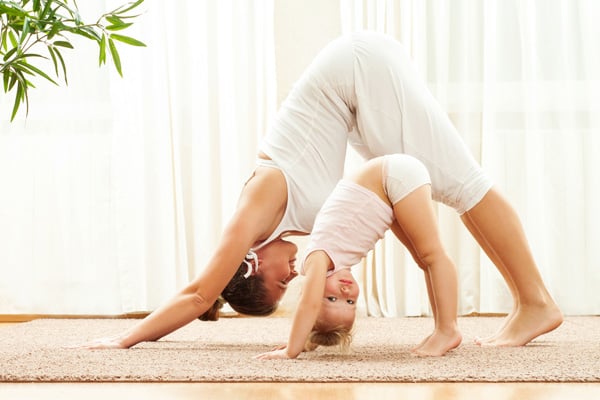 3) Go On Walks
If you're newly postpartum, new to exercise, or jumping back on the wagon, start with walking. Around the neighborhood, around the mall, up the road. When we lived within walking distance of Target, JC Penney, Sprouts, Marshalls, and Michaels, I would strap my baby in her stroller and walk to these places almost daily. It got me out of the house, we both got fresh air, it killed some time while dad was at work, and I burned some extra calories.
If you have a baby who doesn't like to be put down, invest in a good, ergonomic baby carrier and walk around with baby that way. I love my Lillebaby carrier!
4) Try Shorter Workouts
When you're short on time, do a shorter, 10 minute workout. As you progress or as you have time, add on more 10 minute segments. This helps me when I find myself overwhelmed by the prospect of carving out the better part of an hour to exercise uninterrupted.
Because you see, "uninterrupted" time isn't a thing when you're a mom! Don't frustrate yourself trying to forestall the inevitable request for a snack.
A great DVD for 10 minute workouts is Jillian Michaels' 10 Minute Body Transformation. This DVD includes five different 10 minute workouts that range from kickboxing to pilates. I love Jillian!
I'm also a Peloton fan girl. Did you know you DON'T need to have a spin bike or treadmill to take their classes? You can get a free 30-60 day trial to their digital app, which is only $12.99 a month (less than that if you are a healthcare worker, first responder, k12 educator or military).
Peloton is so much more than cycling. The app includes everything from strength classes (including bodyweight strength), barre, pilates, yoga, meditation, cardio, HIIT, and more. The best part? Many classes are SHORT – 10 to 20 minute classes that you can "stack" for a longer workout, or you can opt for a longer class (30, 45, or 60 minutes). Super flexible and perfect for busy parents!
5) Mix Up Your Workouts
I really struggle with boredom, so I mix up my workouts mostly by taking Peloton classes (it's like having a trainer in your living room!) on the days I don't run outside.
Another great way to mix up your workout routines are these exercise cards. I am OBSESSED with them. I love that they are made of a durable plastic and explain the exercise clearly. Use the pre-built sequences provided for a great work out, or make up your own! I don't know about you, but I sure don't know over 100 different strength building moves off the top of my head, so these cards really come in handy.
YOU GOT THIS, MAMA!
If you want to feel better and get healthier–maybe even lose some baby weight–you can totally do it, mama. Even with kids. Even as a busy mom.
But you have to get started.
The first thing you can do to get started is set a goal for yourself. Something specific, and with a deadline. Then make that goal a priority, one as important as making sure dinner is on the table.
Start small, and go from there, one step at a time.
You got this!
10 EaSY WAYS TO FEEL HEALTHY - EVEN IF YOU'RE NOT SUPER FIT!
Are little ones making it harder to find time for a healthy lifestyle? Wish you had more motivation? Here are 10 simple ways to get started feeling great that you can implement in just one day!
If you enjoyed this post, be sure to check out our digital library of helpful tools and resources that help you organize your life, connect with your kids, focus on your well-being, and love being at home.
You Might Also Enjoy: