Lemon Poppy Seed Triple Butter Soap
This post may contain affiliate links (full disclosure policy). As an Amazon Associate, I earn from qualifying purchases.
Sometimes when I make soap, I find myself almost tempted to eat my final product. Is that crazy? Has that ever happened to you? Have you created something so delectable that you were almost tempted to take a bite even though you know its not edible? That happened to me today when I made these lemon poppy seed soap bars.
These soap bars are made with Stephenson's BRAND NEW Crystal Triple Butter soap base, which is infused with mango butter, shea butter, and cocoa butter. It's divine, let me tell you. Stephenson's new Triple Butter base is:
Vegetable Based
Paraben & Sulfate Free
A unique blend of three butters: mango, cocoa, and shea

High in Vitamin E, D & Provitamin A

Neutrally scented and colored, perfect for adding your own fragrance and colorants
Here's how you can use it to make your own lemon poppy seed soap bars :)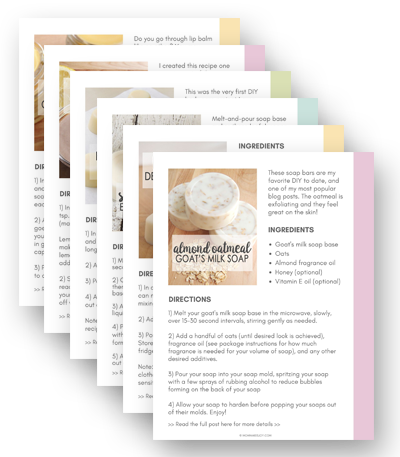 Want a copy of the DIY bath & body recipes my readers love most?
Get my top 6 recipes in printable PDF format sent straight to your inbox!
YOU WILL NEED:
Step 1. Melt down your soap base. Cut your desired amount of base into about 1″ or so cubes and set it in the microwave, melting it at 15-30 second intervals, stirring between each interval.
Step 2: Add your soap colorant and fragrance oil. Add your soap colorant in a couple drops at a time and stir thoroughly until you've achieved the brightness of color you're looking for.
Then do the same with your fragrance oil or essential oil. Most fragrance oil packaging will suggest how much fragrance oil to add based on the volume of soap you're making. For essential oils, which can sometimes smell strongly and can be expensive, drop in as many drops as you feel comfortable using until you've achieved the scent strength you're looking for. This will depend on how much soap base you're working with.
Step 3. Add your poppy seeds! Add these slowly and stir thoroughly. Again, the amount of seeds you use will depend on how much soap you're working with and the look you'd like your soap to have. Feel free to use your judgment here–it's an art, not a science ;) While you're adding your poppy seeds, keep stirring your soap base.
Step 4. Pour your soap base into your soap mold and continue to STIR THOROUGHLY while it is in the mold. Your soap base will be cooling while you do steps 2-4, so keep stirring until your base thickens. When first melted, your base will be very wet, but as it cools it will thicken and will be better able to suspend your poppy seeds in the soap. Keep stirring until your seeds are suspended in your soap base.
Step 5. Allow your soap base to cool thoroughly (this can take up to a couple of hours) before attempting to remove it from the mold and slice it into bars!
I hope you enjoyed this soap tutorial! What kind of soap would you make with Cyrstal Triple Butter base?
Love,
Gabby
P.S. DISCLOSURE: I was not compensated to write this post; however, I did receive a free sample of Stephenson's Crystal Triple Butter base to use for this project. Rest assured, I only endorse products and brands I use, trust, and would recommend to a friend! This post contains affiliate links, meaning I will receive a small commission on products purchased through these links at no extra cost to you. Please see my FAQs and disclosure policy for more information. Thank you for supporting Mom Makes Joy! :)