How To Make Mom Friends (Even If You're Not Very Social)
This post may contain affiliate links (full disclosure policy). As an Amazon Associate, I earn from qualifying purchases.
As a mom, sometimes things get lonely, especially if you're often home with children, shy or introverted! Here's what you can do to make mom friends fast.
Have you ever taken the Meyers-Briggs personality test? It measures (among other things) whether you are an introvert or an extrovert. Contrary to what you might think, these terms don't actually have anything to do with how shy or outgoing you are. Rather, they have more to do with how you recharge.
In other words, do you get energized being around other people or by spending time alone?
GET KIDS TO LISTEN AND HELP YOU MORE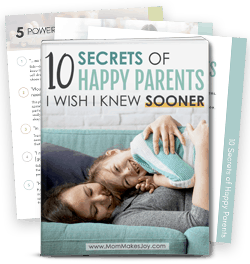 Learn the most effective phrase to get kids to listen so that power struggles and meltdowns don't leave you miserable. Become a happier mom while you raise more helpful kids who cooperate!
When I take the Meyers-Briggs, I always test as an extrovert. I cannot stand being by myself for long periods of time. I love it when my husband works from home, for example, because just knowing he's in the other room makes being otherwise alone so much easier to bear! I am definitely an extrovert.
It might seem like being an extrovert would make finding mom friends a lot easier, but let me tell you: when you're a shy extrovert, it's not. Needing to forge connections with others when you dread to put yourself out there is a tough place to be, especially when you're a stay-at-home mom.
HOW TO MAKE MOM FRIENDS
Not too long ago I found myself desperate for some adult human contact during the day, and it became glaringly obvious that I was going to have to get over my fears of meeting new people if I wanted to make mom friends. If you find yourself in a similar situation, here's what you can do.
1) GET INVOLVED IN FACEBOOK GROUPS
Facebook is a great place to make mom friends without leaving the comfort of your PJs or even your couch! There are a TON of groups you can join, and all you have to do to get started is pop in some search criteria.
I recommend finding groups of like-minded moms and requesting to join. I'm a member of groups for moms with type 1 diabetes, breastfeeding moms, moms who cloth diaper, moms of kids who are dairy intolerant, moms who practice attachment parenting, moms who baby wear, moms preparing to become lactation consultants—you name it and there's probably a group for it!
Sometimes there are some steps you need to take to get into the group (this helps group admins filter requests and keep the group a safe space), but once you're in, just start commenting on posts and engaging! Different groups will have different rules regarding the scope of what can be discussed or conduct requirements, so be sure to familiarize yourself with a groups rules before posting. Often the group rules (or lack thereof) will help you determine if the culture of the group is in line with your parenting style and beliefs.
From there, it's easy to ask if any moms in your area would like to meet up (preferably in a public, well-populated location). Being behind a computer screen makes the friend-finding process a lot less stressful.
2) GET OUT OF THE HOUSE
If Facebook isn't your thing, you'll need to put your big girl pants on (mine are usually of the yoga variety) and head to your local library. The children's section is bound to have—you guessed it—children, and those children have moms. It will take a little courage to meet new people, but if you're lucky they may make the first move.
You can also see if your library has weekly activities or meetings for moms and kids in your children's age group. Sometimes just putting yourself in an environment conducive to meeting new people makes the actual process way less stressful.
The park and, during summer, splash pads are also both great places to make mom friends. Chances are you won't be the only adult not too keen on skipping through the water or going down the slide, so you've already got something in common with other people there! The zoo, your local children's museum or science center, or the aquarium—all of these places will keep your littles entertained while placing you in environments teeming with potential mom friends to be made.
3) LET IT HAPPEN
Okay, so you've gotten online and have gotten out of the house. You're standing in a sea of moms waiting to meet you and…nothing's happening. What do you do? You have three options.
A) Bite the bullet: Go up to someone and introduce yourself! Break the ice by giving her or her child a genuine compliment. If you're feeling self-conscious, remember the spotlight effect: We all assume people are noticing us than they actually are. Sometimes reminding ourselves that we probably don't look or sound as awkward as we feel is just the boost of confidence we need in situations like these
B) Let your kids lead: Children love to explore, and once they hit a certain age they tend to be less afraid of approaching other kids and their parents. They haven't yet learned some of the social norms that eventually make it harder for us adults to break the ice. Use this to your advantage! Follow along, and when your little one makes a friend, be sure to say hello to her friend's mom. Or bring along some extra toys when you go out, like bouncy balls and bubbles, to help you break the ice with other kids and their parents without even really trying.
C) Be patient: And let someone approach you. It will take some time, but if you sit in an inviting place long enough with enough kids nearby, someone is bound to approach you—especially if you have a small baby in a stroller. Moms won't be able to resist stopping by to take a peek! Sure, you might be using your baby as mom-friend bait, but hey, whatever works!
4) ENGAGE
Once you've made contact with some potential mom friends, be engaging. Small talk is a good way to start, but if it makes you feel as awkward as it makes me feel, remember that one of the easiest ways to keep the conversation running smoothly is to ask questions. How old is your little boy? Do you like coming to the museum? Do you think the membership deal is worth it? Or whatever questions make the most sense for the situation.
Look for things you have in common and go from there. People love to talk about themselves, and research as shown we have a tendency to like people who are like us. The more you have in common, the more you build potential for future friendship.
5) FOLLOW UP
One of the best ways to miss an opportunity to make a mom friend is to forget about laying the groundwork for the future. If you've been in contact with a potential mom friend online, suggest meeting up at a place local to both of you. If you're speaking with someone in person, exchange contact information.
This part can be uncomfortable, because it's a little reminiscent of dating. You might want to exchange info with another mom who isn't interested in setting up a playdate or who doesn't find you as interesting as you find her. That's okay! We can't be friends with everyone. Don't take it personally (remember: you aren't interested in being friends with everyone you meet either), let her know it was great meeting, and move on.
One way to make the info exchange run smoothly is come prepared with mommy calling cards! Rather than fumble around in your purse for a pen and the back of an old receipt, whip out one of these bad boys and just hand it over. Reaching out via text, email, or Facebook is a little less personal and therefore less awkward for most people, so be sure to include these alternative means of contact on your cards to increase the likelihood of a future get-together.
Not sure where to buy mommy calling cards or not feeling creative enough to make your own? You're in luck Mama! I have some you can download and print in the Organized Mom Toolbox!
Having mom fiends can be a hugely important part of the new mommy experience. It just helps to have another person like you with kids like yours going through the same stages of childhood together. Someone who is intimately familiar with the same struggles you're experiencing and who can be a sounding board when you have troubles or concerns.
Can you make it through motherhood without mom friends? Sure. But I think it makes life harder than it needs to be.
If you're naturally shy like I am, putting yourself out there can be daunting. But it doesn't have to be. Don't hold yourself back! Go online or get out of the house, make yourself look friendly, and don't forget your playdate cards. You'll be glad you did this.
GET KIDS TO LISTEN AND HELP YOU MORE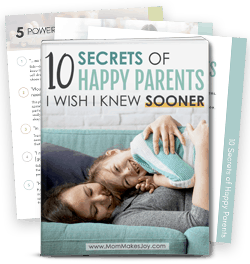 Learn the most effective phrase to get kids to listen so that power struggles and meltdowns don't leave you miserable. Become a happier mom while you raise more helpful kids who cooperate!
If you enjoyed this post, be sure to check out our digital library of helpful tools and resources that help you organize your life, connect with your kids, focus on your well-being, and love being at home.