Whipped Mint Green Tea Sugar Scrub
This post may contain affiliate links (full disclosure policy). As an Amazon Associate, I earn from qualifying purchases.
This week I started week 3 of the six-week exercise program (perfect for beginners like myself!) that I committed to a while back. I've noticeably developed more muscle (particularly in my arms), and I haven't slept so well in forever! The only down-side is my body just won't stop being sore (though it's slowly getting better), so I've found I really need to take time each night after the gym to relax and pamper myself a bit.
That's why when my friends at Stephenson Personal Care offered to let me try their Foaming Bath Butter, I was REALLY excited. There's basically not a better way to pamper yourself, especially when you only have a couple hours before bed each night to relax!
Stephenson's Foaming Bath Butter is a versatile product that can be used to make sugar scrubs, salt scrubs, and body soufflés. It's moisturizing, Paraben and MPG Free, and has a great lather too!
Now, the simplest traditional homemade sugar scrub is typically made with sugar and some kind of oil, perhaps almond oil or coconut oil. While these are super nice, they do not make for a whipped scrub and they don't have the same kind of cleaning and lathering properties you get when you use this foaming bath butter base. As someone who has tried on two separate disastrous occasions to make a whipped sugar scrub (only to have it turn into a big oily un-whipped mess), I can honestly say this base works like an absolute charm!
So let's get started, shall we?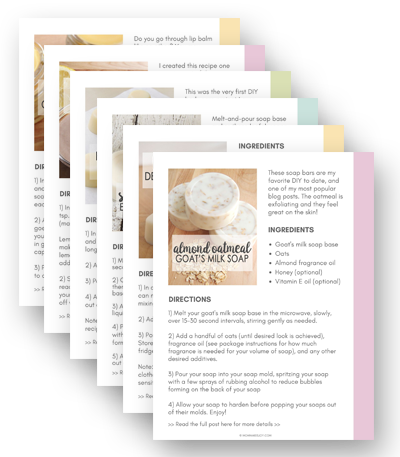 Want a copy of the DIY bath & body recipes my readers love most?
Get my top 6 recipes in printable PDF format sent straight to your inbox!
THE RECIPE
To make a whipped green tea sugar scrub, get your hands on the following:
Sugar
An essential oil of your choice (optional)
Step 1. Scoop out your foaming bath butter. Up close, straight-from-the-tub, the bath butter looks a little like melt-and-pour soap base—it was a bit more solid than I expected, and it was also a little stickier than I imagined it would be. It has a neutral but ever-so-slightly clean, soapy smell to it.
Step 2. Place your foaming bath butter in a bowl and add up to 50% sugar (I used white sugar). From here, take out your hand mixer and mix it up until you see your butter start to soften and go from a chunky, sticky solid to a smooth, creamy mix, like a thick frosting (shown above).
Step 3. Add your additives! In this case, that would be your mint green tea and peppermint essential oil. Peppermint essential oil, apart from smelling divine and complimenting the mint in the tea, is great for relaxation. You could also substitute lavender essential oil for an equally awesome relaxing combination!
Step 4. Enjoy your whipped sugar scrub! To use, scoop out a small handful and rub it in your hands almost like you would lotion. The sugar and green tea leaves exfoliate the skin while the foaming bath butter moisturizes and cleans.
Have you ever made a sugar scrub before?
Love,
Gabby
P.S. DISCLOSURE: This post contains affiliate links, meaning I will receive a small commission on products purchased through these links at no extra cost to you. Please see my FAQs and disclosure policy for more information. Thank you for your support!