How To Get Started Wearing Your Baby
This post may contain affiliate links (full disclosure policy). As an Amazon Associate, I earn from qualifying purchases.
If you want to get started wearing your baby but are overwhelmed with all the babywearing options and safety guidelines, this post is for you!
When I was pregnant, I knew I wanted to wear my baby. I had learned about attachment parenting in college (one of my degrees was in Family and Human Development), so the idea of babywearing wasn't new to me and I loved the idea. But when it came time to actually dive into purchasing a carrier? I was overwhelmed with options.
7 NEW MoM SECRETS I WISH I KNEW SOONER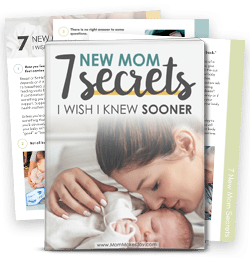 Feeling a little overwhelmed caring for your baby? Grab our FREE guide to learn 7 new mom secrets I wish someone had shared with me as I embarked on my motherhood journey.
After tons of research, going back and forth, you-tube review watching, and buying a couple different options only to return them, I finally settled on my carrier of choice! But before I share my review of it (and the carrier I almost chose instead), I thought I'd first share a bit of what I've learned about babywearing.
IT'S A BFD
First off, babywearing a HUGE thing in some circles. There are Facebook groups dedicated to everything from the proper wearing your littles, to certain types of carriers, to the buying, selling and trading of carriers, to the general love of wearing your baby, etc. The moms in these groups are some pretty cool, helpful people, so if you're interested in babywearing you might consider joining one of these groups, or your local chapter of Babywearing International, for more info.
In the meantime, here is a brief rundown on the world of babywearing to help get you started:
A BRIEF 411 ON BABYWEARING
Types of Carriers:
There are four (probably more, but we'll say four for now) basic types of carriers you can use to wear your baby:
Wraps: Think the Boba or Moby wrap. These carriers are essentially long pieces of fabric that you wrap around yourself creating a pocket in which to sit baby. Some wraps (like the Boba or Moby) are made of a stretchy cotton material, while others are made with a woven material. They come in all sorts of different styles. Baby can be carried basically any way you can safely wrap the baby given the style–woven or stretchy–of wrap you're using (and there are a ton of different ways to wrap). If you're not into fancy wrapping, there are wrap-like carriers, like the Baby K'Tan, that basically come already wrapped, so all you have to do is put it on and slide baby in.
Slings and Pouches: These carriers are pieces of fabric that go over one shoulder and are designed to carry baby on your hip or facing you. Some of these carriers are sized to fit mom, and others have rings sewn into one end (these are referred to as "ring slings") that allow you to adjust the carrier to fit you in a way that's comfortable for you and baby.
Soft Structured Carrier (or SSC): These generally no-fuss carriers typically have some kind of buckle that goes around the waist, adjustable shoulder straps, and a soft panel that creates a seat and back support for baby. Popular SSC brands include Tula, Lillebaby, Ergobaby, Beco, Boba (non-wrap), and Kinderpack.
Asian-style carriers: The most common you'll see is probably the mei tai. This carrier is sort of a hybrid of a wrap (insofar as it has ties you wrap around yourself and baby for support) and an SSC (insofar as it has a panel that creates a seat and back support for baby). You're basically looking at a square panel with four ties coming off each end: two shorter ties go around your waist and two longer ties go around your shoulders and baby. The mei tai I've seen around the most is made by Infantino.
THE PROS AND CONS
As you can imagine, each type of carrier has it's own unique advantages and disadvantages depending on what you're looking for in a carrier. If you're looking to make a purchase, definitely do your research! You might even consider going to a meeting of your local Babywearing International chapter to try on carriers before buying. Some carriers can be pricey, so you want to make sure your investment is a good one.
There is no "Best" carrier: It depends 100% on what fits you well and what your baby will like. Below are some pros and cons for each basic type of carrier:
Wraps
Pros:
Affordable (You can pick up a Boba or Moby wrap for $40 or less)
Great for newborns, who generally love the snug closeness
Great for preemies, since wraps generally have no lower weight minimum
Can be pre-wrapped around mom to pop baby in
Lots of different kinds of fabrics and colors to choose from
Cons:
Some people find the wrapping process time-consuming and complicated
Stretchy wraps aren't considered safe for carrying baby on your back
Stretchy wraps are generally only considered comfortable until baby is about 15lbs. Some don't like the feeling of baby sagging–the wrap may feel like it's coming loose.
Wrapping means a lot of fabric around you and baby, which can get warm or simply be untenable depending on the time of year.
May be hard for some moms to nurse in: nursing may require unwrapping and rewrapping.
Slings and Pouches
Pros:
Easy to put baby in and out–minimal fancy wrapping

Easy to nurse in

Good option for warm weather
Cons:
Not the best option if you want to be totally hands-free (baby may need supporting depending on the carry)
Not generally comfortable for carrying baby for long periods of time or for carrying bigger babies
Ring slings can take practice to adjust properly
Soft Structured Carriers
Pros:
Easy to learn to use: Once the straps are adjusted, it's super easy to pop baby in
Some brands come in cute/highly sought after patterns and prints
Depending on the brand, carriers can have a very good resale value
Some SSCs, like the Ergo360, Lillebaby, and Beco Gemini, allow for more carry types (e.g. front carry, back carry, facing out, hip carry)
Toddler-sized SSCs are great for bigger babies
Can be easy to nurse in
Cons:
Carriers don't always transition between wearers well, depending on your build
Can be pricey (some USED Tula carriers in highly sought after limited edition prints can sell privately for well over $1000); SSCs usually run between $120 and $180.
Some SSCs are better for smaller/larger babies. You may need to size up to a toddler carrier down the road.
Most SSCs require the use of an infant insert for babies between 7 and 15lbs. This insert is often sold separately. (Tula's, Ergos, and the Beco Soleil require inserts, the Boba 4G comes with an insert, and the Beco Gemini and Lillebaby do not require an insert).
Asian-Style Carriers
Pros:
Loose straps mean the carrier transitions easily between wearers
Reasonably easy to nurse in
Can wear newborns (in some styles) without an insert using the hair tie/ribbon trick (tying a ribbon around the base of the carrier to make the seat more narrow for smaller legs)
Can be very affordable
Cons:
Slight learning curve: long straps drag on the ground and may feel cumbersome
Usually sized and may require sizing up
BABYWEARING SAFELY
When I first wore my baby to a family get-together, my grandma (who watches my baby cousins) saw my carrier and immediately recoiled. "That carrier KILLS my back," she said. When I saw a photo of her wearing my baby cousin, I immediately knew why. He wasn't being worn correctly! Not wearing your baby correctly usually just results in discomfort for the wearer, but it can actually be dangerous for baby too.
When wearing you baby, remember your ABCs:
A: Airway
Baby's Airway should be open. Her chin should be off her chest. Baby's head should be close enough to kiss.
B: Body Positioning
Baby's head, neck and back should be appropriately supported given their ability to control these parts of their body. Babies should not be facing out in a carrier not designed for ergonomically facing out position. Baby's legs should never dangle: weight should be supported by their thighs and bottom. Baby's knees should ideally be higher than their bottom (an "M" position). These things help prevent hip dysplasia. The Baby Bjorn carrier (which is notorious for causing back pain in users) is a huge offender when it comes comes to "crotch dangling," a.k.a. poor ergonomic design. I never recommend this carrier.
C: Comfort
Wearer and baby should both be comfortable! If a buckle is digging into you or baby's circulation is being cut off by a strap that's too tight, reevaluate positioning or find a more comfortable carry/carrier. If you don't feel confident getting baby in a certain carry position, have someone help you or at least be there to assist if needed.
The reasons my grandma was having trouble with her carrier can all be traced to these ABCs. Baby was facing out in a carrier not designed for facing out. His legs were dangling, and he was hanging too low, not close enough to kiss. The straps weren't tied in the correct "X" shape as well, which put too much strain on my grandma's back. We fixed these things, but it turned out baby was just too heavy for my grandma to comfortably wear him in that carrier. That's okay! If a carrier doesn't work for you, sell it or trade it in for one that does.
7 NEW MoM SECRETS I WISH I KNEW SOONER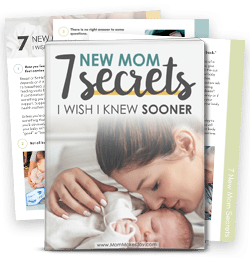 Feeling a little overwhelmed caring for your baby? Grab our FREE guide to learn 7 new mom secrets I wish someone had shared with me as I embarked on my motherhood journey.
If you enjoyed this post, be sure to check out our digital library of helpful tools and resources that help you organize your life, connect with your kids, focus on your well-being, and love being at home.