How to Prioritize Your To-Do List In Minutes
This post may contain affiliate links (full disclosure policy). As an Amazon Associate, I earn from qualifying purchases.
I'm a list maker. If I'm going to the grocery store, I'm paralyzed without my list. Packing for vacation? I need to make a list. Bills to pay? Better write them down on a list. Found something I want on Amazon but not ready to buy it yet? That's okay, I have a list for that.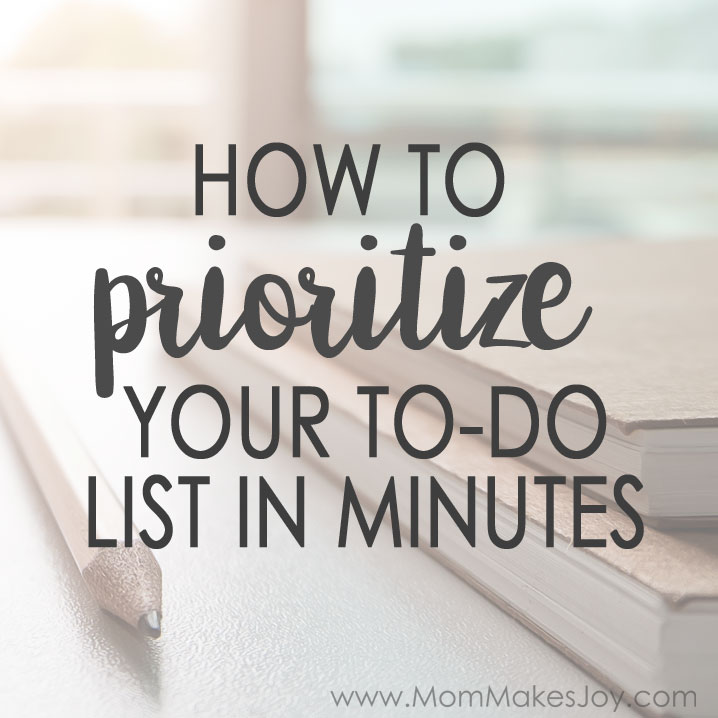 I'm a little bit type A, so most people assume my list making stems from my control freak tendencies need for order, but if I'm totally honest, I know they really stem from my anxiety. Sometimes it feels like my brain is swimming with things I need to do, and if I don't write them down I might forget one of them and, worst case scenario, the Earth will collide into the Sun.
It's a lot of pressure, you know, having the fate of the world on your shoulders like that.
So rather than be plagued by feelings of anxiety (and, worst case scenario, apocalyptic doom), I've become an organized, list making person…who occasionally meets with a therapist.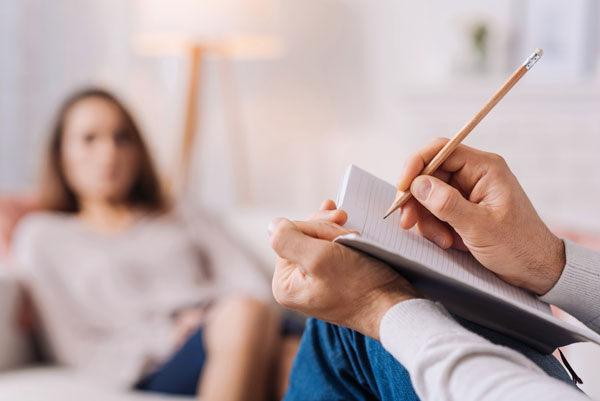 Just one problem: My to-do list is out of control.
As mothers, our to-do list is really truly never ending. And if I'm honest, my home is a graveyard to many half done "projects" that have been abandoned or put off indefinitely. In the past, that would have driven me crazy. You see, I'm generally the kind of person who likes to systematically move down my to-do list, mowing tasks down one by one. I'm a completionist.
I've come to learn, though, that if I actually want to get more done, I have to let some of the other things go–not necessarily forever, but for now. And I can't always tick things off in the order I write them down; I have to create new order.
Because the important stuff has to come first, like spending time with my daughter and husband, exercising, meal planning, eating well, cleaning, blogging. Other things—like making felt food for my daughter (a project I started four weeks ago), going to breastfeeding support meetings, reading books, continuing education classes and webinars, scrapbooking and other hobbies—these things are important to me too, but they happen in the margins of my life.
HOW TO PRIORITIZE YOUR TO-DO LIST
Having a to-do list is fine and dandy, but with priorities in place, I get more of everything done–the important stuff and the margin stuff.
Prioritizing your to do list sounds easy in theory, but in practice it's a process that can easily get jumbled. My need for order control freak tendencies are pretty strong, but they're not a super power.
That's why I created my priority organizer worksheet: I needed a simple way to organize my to-do list in one place. Here's how I use it:
STEP 1: BRAIN DUMP
This is exactly what it sounds like. Empty your brain of everything you need to do. Don't worry too much about whether or not a task needs to get done this week or what kind or category of task it is. Just write it down.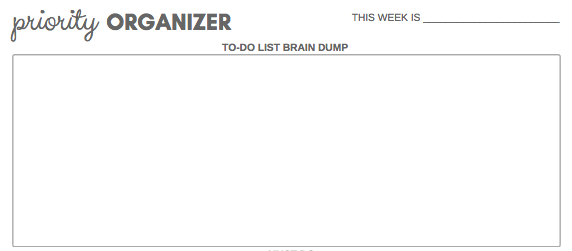 STEP 2: COLOR CODE (OPTIONAL)
How you do this will depend on what works for you. You may choose to color code your list by by category (is it family related, work related, or personal?) or by type of task (is it a habit, a step in a project, or a one-time task?). You can color code your list by underlining or highlighting each item in a different color.
STEP 3: PRIORITIZE
Take each item on your brain dump list and transfer it to the Must Do, Should Do, or Can Wait box, taking care to notate any hard deadlines associated with any of these tasks. If you opted to color code your list, the benefit becomes apparent here, as it can help you clearly see how and where you will be spending your time so you can reevaluate your priorities as necessary.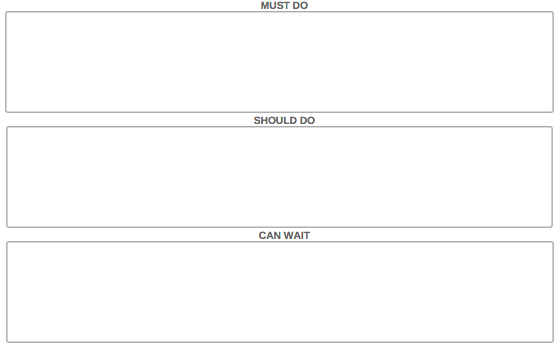 STEP 4: SCHEDULE IT!
I have a bad habit of trying to get everything on my to-do list done and out of the way as soon as possible. Historically, this makes me feel burned out pretty quickly, so I included a section on my priority organizer worksheet to schedule your tasks throughout the week. Use this section to set a "due date" for tasks that don't have a specific deadline and take into account which days of the week make the most sense to schedule things.
And voila! You just set priorities! Want to nab a copy of this awesome printable? Just take two seconds to pop in your info below and you'll be good to go!