When To Move From Blogger To WordPress
This post may contain affiliate links (full disclosure policy). As an Amazon Associate, I earn from qualifying purchases.
It has been a long 9 years (which is like a million in the blogging world) since I transitioned my blog over to WordPress, and I'm SO glad I did! At first, I decided the transition wasn't worth it (you can read about the hidden cons of WordPress here). But in this post, I share what made me change my mind, why I decided to migrate my blog myself, and if I would recommend you do the same.
It's done! I am beyond thrilled to "officially" unveil my new WordPress blog!! What do you think?? Since I've migrated to WordPress from Blogger, I've gotten many question about the process—how I did it, why I did it, and what's involved. So I'm really excited to share what I've learned about when to migrate with you and hopefully offer some insight.
Find MORE TIME TO DO WHAT YOU ENJOY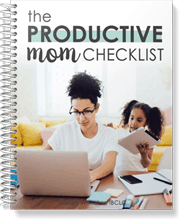 Feel like your to-do list is looming over you? Our Productive Mom Checklist gives you 10 simple ways to boost productivity so you can have more free time to spend doing things you actually enjoy!
Today I'm going to focus on three main questions:
When should I move to WordPress?
What should I consider before migrating to WordPress?
Why did you DIY your blog migration?
Back in September, I decided to give WordPress another shot. But even though this is what I wanted, I couldn't help but think What if this isn't the right step for my blog right now? Can I justify this expense? What happens if something goes wrong?
I was frustrated. I felt my own technical ignorance kept me chained to Blogger, and it seemed I was just waiting for the day Google decides to shut my blog down–which has happened to people! You don't want to upset The Google.
And then it came to pass that I stumbled upon Kristi Linauer's Blogger to WordPress migration guide. It kind of felt like I found the Holy Grail of blog migration. But there were still some things to think about and decisions I had to make before I was ready to go all in.
WHEN SHOULD I MOVE TO WORDPRESS?
Timing is a big thing for me. The right thing at the wrong time is still the wrong thing, and I'm a firm believer in that. But if you're considering migrating to WordPress, how do you know if your timing is right? Here is what went through my mind when I answered this question.
1) Things were starting to happen.
Most Notably:
People wanted to follow my blog. When I first considered migrating to WordPress, I couldn't justify the cost when my blog had no followers (besides my mom—thanks, mom!) and no idea if that would ever change. But it did! So I need to shout out a big THANK YOU to all of you for your support. It means a lot to me.
A pin went viral on Pinterest. I think. Ok, so technically I'm not sure what the official definition of "going viral" is. Is that 1,000 repins? 10,000? Does your self-hosted blog have to crash from all the page views you're getting? I'm just not sure.
So when I pinned my Pumpkin Spice Krispie Treats recipe and found myself with a 800+% increase in blog traffic, a 3,000+% increase in my repin rate, and a 1,000+% increase in my click-through-rate (CTR), I realized that a viral pin is kind of like pornography: you'll know it when you see it. If you find yourself thinking "Wowza," your pin probably went viral. So that said, I think I had a pin go viral.
I was asked to be a contributor. I started as a contributor to The Inspiration Network, a new blog by a team of talented bloggers. I also contributed to Living Well Spending Less's Handmade Holidays series and was asked by Ruth to be a regular contributor!
2) I wanted to experiment with earning revenue.
Blogging requires time, equipment, supplies, software, and technical skills. And money, sadly. So to keep my blog from being a money-sucking black hole, I wanted to learn how to earn revenue from my blog. I don't really care if I make a profit—I just want to offset the cost of running it. I could've done this on Blogger, I guess, but that whole content ownership thing was really bugging me, and I didn't want to get in deeper with Blogger.
3) It was just going to be a hassle the longer I waited.
The more posts and comments you have to move over, the greater the chances are that you could lose some in the process. Fortunately, you should be able to manually move those posts and comments over should you lose one, but who wants to filter through thousands of pages of content to do that?
And images! When I moved to WordPress I wanted to add a thumbnail image for each of my posts so I could take advantage of the full functionality of my blog design. Fortunately, when I migrated I only had 35 previous posts to add thumbnail images to. I can only imagine the frustration I would've experienced if my blog was any bigger!
Lastly, when you migrate there is likely going to be a bit of downtime. The bigger your blog, the more of a disruption this downtime will be.
WHAT SHOULD I CONSIDER BEFORE I MIGRATE FROM BLOGGER TO WORDPRESS?
If you're considering migrating from Blogger to WordPress, here are a few important things to consider before you make the plunge:
Will I actually keep up with my blog long term? If you're not sure or if the answer is no, then migration not be worth the time, cost, and potential headache.
Do I have the $$ to pay for the big move? There are multiple costs associated with migrating to WordPress from Blogger:
Hosting.

Can run roughly from $4-$8 or more a month on the low end, depending on your host and the extra services you choose to purchase from them.

Your domain name (if you don't already have one).

These are usually inexpensive and will need to be renewed yearly.

Blog back-up services?

When you have a self-hosted WordPress Blog, you may want to use a service like BlogVault to regularly back-up your blog's files and databases. This will run you about $89 a year, but the peace of mind knowing your blog is backed up in the event of a crash or hackers is well worth the investment.

Blog design.

WordPress out-of-the-box is actually kinda icky looking. If you want to keep your Blogger blog design (think: template) or want a fresh look for your blog, you will need to pay someone to design your blog or know how to do it yourself. This can run you from as low as $50 to as much as $600 or more, depending on what you're looking for and who's doing it for you.

Migration.

The part where you actually go in, update your name server information, update your domain info, change your permalink structures, update your MX records, import your posts and comments, and configure your widgets, pages, and navigation bars. This can cost you anywhere from $99 to $250 or more. Often the cost of configuring widgets, pages, and navigation bars isn't even included in this figure.
Do I have the patience and skills to migrate myself? When I inquired about the cost of just migration and blog design, I was quoted from as low as $200 to as high as $750. It made me feel uncomfortable spending that much, so I dug deep down and found patience. When I did it myself, the migration+blog design portion of the migration process ended up costing me a mere $80.
Do I have the $$ to pay someone to fix my blog if I mess things up trying to do it on my own? It's a good idea to have a back up plan. I could afford to get my blog fixed if need be, but I hoped it never came to that and figured that if it did, well, I only had 35 published posts, so if I had to start over from scratch, it wouldn't have been the end of the world.
WHY DID YOU DECIDE TO DIY YOUR BLOG MIGRATION?
Control. Yeah, I'm a control freak, I'll admit it. For me, half the fun of blogging is the blog design portion of it — my blog is a canvas, and although I'm very much a novice painter, I still like to paint when I can. It's cool to be able to say "Hey, I did that!," you know? When you pay someone to design your blog, often there is some fine print that says you can't alter the design. That was creatively frustrating to me. And I didn't want to have to fork over more money when I got tired of the way things looked.
Cost. As I mentioned before, I couldn't justify the cost. It was a matter of time or money, and I chose time.
Challenge. I like a good challenge. I have learned SO much about WordPress and how websites work behind the scenes while DIY-ing it.
Skills. I made sure to research the minimum skill set necessary to design my blog myself. I had taught myself enough CSS to design a custom (albeit relatively simple) blog design for Blogger, and I knew a minimal amount of HTML (enough to insert a hyperlink, an image, a hyperlinked image, force a paragraph break, change my font color, change my image size, include some alt text—those kinds of things). And I just so happened to love my simple blog design, meaning I shouldn't have to do anything too fancy to get the same look.
Risk. As I mentioned before, if I lost everything I felt okay starting a new blog and I had money reserved in case I messed everything up. And since I had a migration guide to lead the way, the risk felt minimal.
THE SHORT STORY
If you're deeply considering moving from Blogger to WordPress and would like to grow your blog into a business, I highly recommend moving to WordPress before your blog gets big. When you have less to lose, you'll also have less headache and less cost associated with the transition. Make sure a move is right for you, and go for it once you're sure!
Find MORE TIME TO DO WHAT YOU ENJOY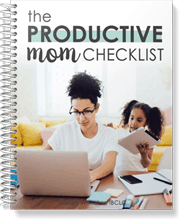 Feel like your to-do list is looming over you? Our Productive Mom Checklist gives you 10 simple ways to boost productivity so you can have more free time to spend doing things you actually enjoy!
If you enjoyed this post, be sure to check out our digital library of helpful tools and resources that help you organize your life, connect with your kids, focus on your well-being, and love being at home.