4 (Not-So-Obvious) Ways Clutter Affects Your Parenting
This post may contain affiliate links (full disclosure policy). As an Amazon Associate, I earn from qualifying purchases.
When my daughter was born, my husband and I lived in a 750-square-foot apartment that–compared to the 538-square-feet we lived in before–felt like the Taj Mahal.
This place had a washer and dryer in the unit, okay? The kitchen was big enough for a dishwasher and we could walk around inside our closet. We finally had enough room for everything in our home to have a designated storage space, and we were living large.
Fast forward nine months, and our new baby came with more gear than I thought we'd ever use: a swing, a pack n play, a high chair, a crib, a changing table, even this sleeper that I intentionally didn't buy because it would take up space (only to realize, in a zombie-state of half-asleep desperation, that I NEEDED it later).
Before Little Bo started walking, we moved into a 1000 square foot apartment. This place had a second bedroom, a second bathroom, and a dining nook, which meant now we would finally have enough space for everything we owned! And we did.
For about 30 seconds.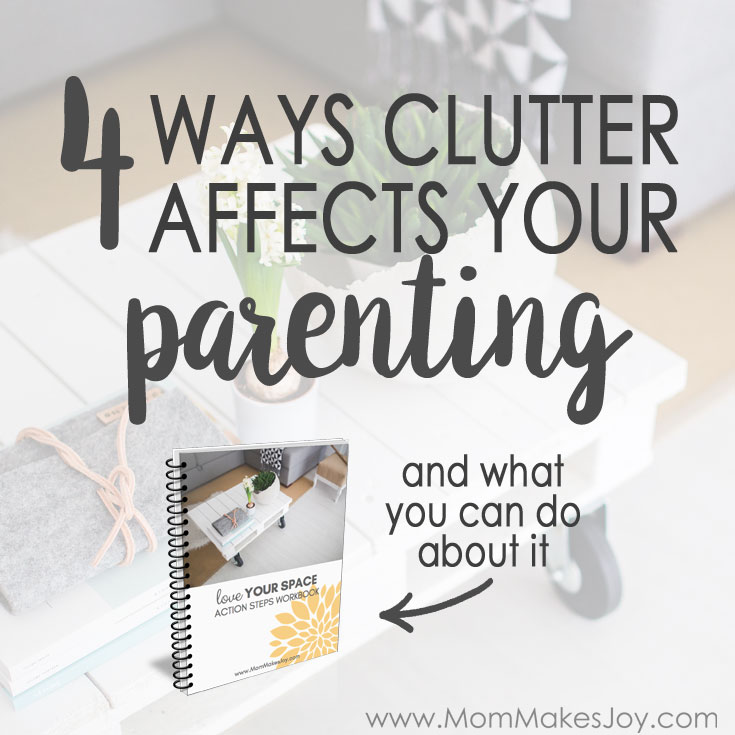 Just a few short months later, as it became apparent we weren't quite ready to buy a home yet, I found myself hating the walls around me. I didn't have room to store the baby toys and gear Little Bo had grown out of and nothing would stay tidy. Moving to a bigger place seemed like just what we needed, but it wasn't an option.
And the problem wasn't just my cluttered space. It was around this same time that I was feeling like my whole life as a mom was a mess. I was juggling a fickle chronic illness, special dietary restrictions, and an increasingly needy nine-month-old. In the midst of it all, I was deeply unhappy and found myself taking it out on my husband, who was often working 80 hour weeks at a demanding job.
But one day that year I had an eye-opening revelation: I didn't have to live like this.
Derp. OBVIOUSLY!
When I stopped being a victim to my circumstances, I realized just how much the mess in my life was affecting me. And perhaps most importantly, I realized it had the power to affect my parenting.
HOW CLUTTER AFFECTS PARENTING
If you're not entirely sure how a sink full of dirty dishes affects how you relate to your children, consider this:
1. CLUTTER STRESSES US OUT
Research has actually shown that there is a relationship between our homes feeling clean and whether or not the time we spend there is refreshing or not.
In one study, female participants were asked to give a verbal tour of their home, and their answers were evaluated and categorized by the words they used. Women who used words like "unfinished" or who more often described clutter were significantly less likely to report feeling relaxed and tended to have higher levels of the stress hormone cortisol. (It's interesting to note that this association was not found in men!)
When you are stressed, think about how you interact with your children! It's harder to find patience, your willpower is more easily depleted, and your ability to empathize flies right out the window.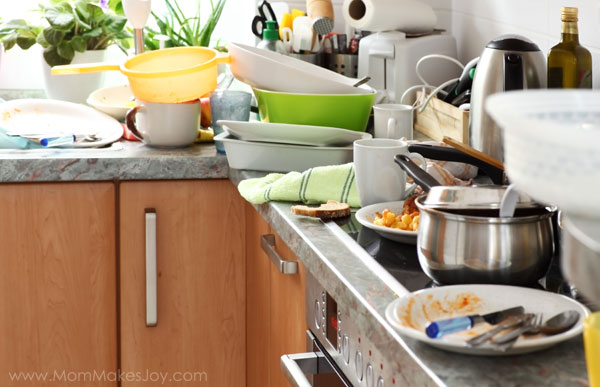 2. CLUTTER TAKES UP OUR TIME
When we have a lot of stuff, we have a lot of stuff that gets messy. Of course, there will be some chores that need to be done no matter how much "stuff" we have–like dishes and the toilet bowl. But the amount of time other chores take–like picking up toys, putting stuff away, organizing our space, etc.–is directly proportional to how much clutter resides in our home.
So we can do one of two things: Not worry about it and let our stuff get messy and unorganized (in which case, see #1 above) OR feel like we need to constantly pick up around the house when we could be spending that time with our children instead. I know which option sounds better to me!
3. CLUTTER UNDERMINES LESSONS YOU WANT TO TEACH
Modeling behavior is a powerful learning tool for children. While keeping your room clean isn't a foolproof guarantee that your child's room will be kept likewise, modeling the kinds of behaviors we want to see in our children is nonetheless important!
When we don't have order in our home, can we realistically expect our children to appreciate the benefits of organization? What lessons are we teaching about the value of "stuff" when we hold onto things we don't need and buy what we could just as easily live without?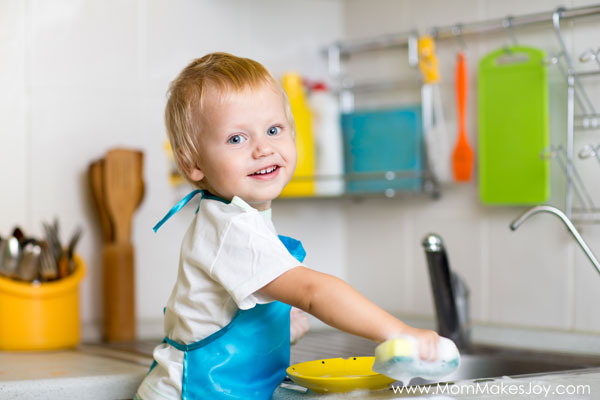 4. CLUTTER BREEDS CONFLICT
And not just because it stresses us out! Young children feel overwhelmed at the prospect of putting away a mountain of playthings and parents feel frustrated hounding their kids about the state of the living room.
In short, more stuff means more to fight about.
Of course, on the flip side of all this, you don't want to be so preoccupied with having a clean home that you stress yourself out, spend all your time cleaning, or make your children feel like a clean house is more important than they are.
SO WHAT'S THE SOLUTION?
The key is to find balance.
And for me, the first step to finding balance meant overhauling the way I felt about my space.
I needed a cleaning schedule that would give my days predictability and shorten the overall amount of time I spent cleaning.
I needed less stuff in my home to creating clutter, collecting dust, and taking up space.
I needed a reliable way of making sure my home stayed organized so I could focus on other things.
And I wanted to feel good about my home. I wanted a pretty space I loved!
But I had NO idea where to begin. And when I did, it took months to haphazardly fall into a routine that actually worked for me.
But this doesn't have to be your story.
THE ANSWER YOU'VE BEEN LOOKING FOR
If you're tired of the way the mess in your home affects your family and your life, the good news is you don't have to spend months coming up with a solution that works.
I've done the hard work for you, and I turned it into something you can use to create a custom solution for your family.
No rigid, inflexible structure. No predetermined methods that clash with your schedule.
Just straightforward action steps to help you navigate your way toward a more organized and inviting home!
It's called the Love Your Space Action Steps Workbook, a 30 page guide that includes 19 pages of worksheets carefully designed to help you eliminate overwhelm and fall in love with the home you already have.
HERE'S WHAT PEOPLE ARE SAYING:
This workbook came to me at the perfect time (as I stared at the paper clutter and growing mountain of laundry). Gabby breaks down the process of creating a home you love with a very easy-to-follow-process and little (if any) money required. For the first time, the thought of organizing my house and following a cleaning schedule doesn't overwhelm me, it excites me! I recommend this workbook to anyone who wants to upgrade their life without having to spend a lot. Lauren, www.determineddollar.com
I am loving my Love Your Space workbook! I really like how it breaks down each assignment by room and gives you the tools to create your own plan so you can come up with what will work best in your home. I think the Declutter section is my favorite — the workbook gives me a fresh perspective on what seems to be a never ending battle at my house. Kim, www.kimathome.com
I could tell I was going to love this as soon as I opened it up! The layout is lovely, the sequence is intuitive, and the guidance is just what I needed. Gabby really gets you to reflect and then gives actionable steps for the best ways to create a space you love! Alea, www.frugalnesting.com
When it comes to keeping my house clean…I am a hot mess. I have two young boys (and a husband) who make more messes than I usually can keep up with, and I haven't had the time to figure out what to do on my own. This workbook was exactly what I needed! It broke everything down into manageable bites and helped me to easily come up with my own cleaning and organizational systems that actually work for our family. Gabby doesn't try to give you a one size fits all system, but actually guides you to form a system that will work for you. I was so stressed all the time feeling like I was being weighed down with all of our things, and I feel so much lighter now! Thank you Gabby!! Corey, North Carolina, mother of 3
ARE YOU READY FOR THIS?
This workbook is available starting TODAY!
Curious? You can learn more here. Or nab your own copy here!
Happy cleaning mama! I hope this blesses your home and family as it has mine!
Love,
Gabby
P.S. DISCLOSURE: This post may contain affiliate links, meaning I will receive a small commission on products purchased through these links at no extra cost to you. Rest assured I only promote products I use, love, and would recommend to a friend! Please see my FAQs and disclosure policy for more information. Thank you for your support!
Save