5 Reasons You Should Use Recipe Cards
This post may contain affiliate links (full disclosure policy). As an Amazon Associate, I earn from qualifying purchases.
I didn't grow up with matching stuff in the kitchen. For years we had mismatched dishes, cups of different shapes and sizes, different pots and pans. It wasn't intentional, like an eclectic look my parents were going for or anything like that. They just didn't care if stuff matched. Now that I'm older, I can appreciate that. Why get rid of perfectly functional kitchen items for the sake of aesthetics?
On the other hand, I think perhaps it was all this mismatching that made me a little bit of a sucker for coordinating kitchen items when I grew up and had a home of my own. Matching white dishes, color coordinated dish towels. Heck yes.
Most recently, my need-for-matching has made me take a long hard look at my recipe box (I have this one, and I love it) which, until recently, has been filled to the brim with magazine clippings and the occasional blank 4×6 card with a recipe scribbled on it. But no more–my need for matching has won again.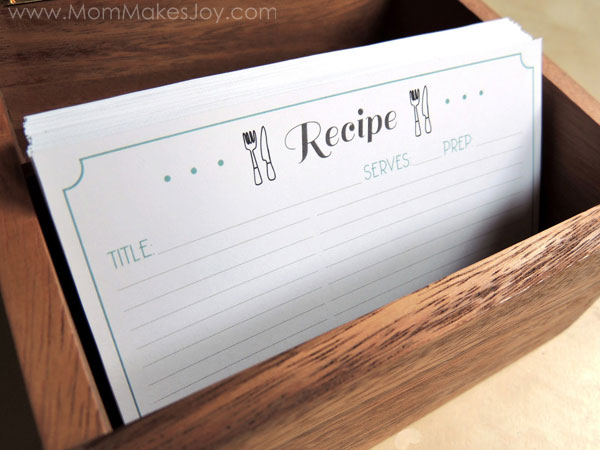 So I made some printable recipe cards, and I soon realized I should have started using them a long time ago! Here are 5 simple reasons you should be using recipe cards too:
1) TO CREATE A MASTER MEAL LIST
I don't know what it is about sitting down to meal plan for the week that makes my brain rid itself of all knowledge of the food I know how to cook. Having my favorite meals archived in one place makes meal planning when I have no idea what to cook a breeze.
FREE PRINTABLE RECIPE CARDS
Is your recipe box overflowing with random clippings? These recipe cards will solve that problem!
2) TO MINIMIZE FOOD WASTE AND SAVE MONEY
I used to never buy celery. Even if a recipe called for it. When I would buy it, I would use like maybe one stalk, freeze the leftovers and never use them. Same thing with scallions. When I use my recipe card stash to meal plan, I can choose meals that have ingredients in common, which is easy to do because the ingredients lists for each meal are all right there! I can buy in bulk and throw away less food. Sounds like a win to me!
3) TO KEEP YOUR DIET VARIED
When I make a new meal that I like, I have a tendency to make it until I'm sick of it. Putting the recipe in my box helps me change up what we eat on a weekly basis: I pick a meal from the "Poultry" section, grab card from "Beef," grab another card from "Vegetarian." You get the idea. Otherwise I'm pretty sure we would be eating some type of chicken probably every night.
4) TO MINIMIZE CLUTTER
I love recipe books, I really do. But I don't love storing them in my kitchen, which is small. There isn't a place where they all fit well, so they ended up taking up some of the valuable real estate in my cupboard. But not anymore! My beloved recipe cards save the day again by keeping everything neat, tidy and compact.
5) TO GIVE YOUR KITCHEN CHARACTER
I suppose this isn't a particularly practical benefit of using recipe cards, but that's okay. For me at least, having a kitchen I find aesthetically pleasing helps motivate me to keep it clean, and having a recipe box I enjoy motivates me to keep filling it with healthy things. Plus, sometimes it's just fun to have pretty things!
You can download one of the recipe card designs I created as a freebie, and you can purchase the whole bundle in my Etsy Shop!
Enjoy this post? Be sure to subscribe by email!
LOVE,
GABBY
P.S. DISCLOSURE: This post may contains affiliate links, meaning I will receive a small commission on products purchased through these links at no extra cost to you. Please see my FAQs and disclosure policy for more information. Thank you for your support :)