Erin Condren Life Planner Review + $10 off!
This post may contain affiliate links (full disclosure policy). As an Amazon Associate, I earn from qualifying purchases.
I'm a sucker for a good quality planner. Here is my review of the Erin Condren Life Planner, as well as a $10 off coupon for you!
Good Weekend, friends! Before we get *too* far into the year, I wanted to share with you my thoughts on my new Erin Condren Life Planner!
Find MORE TIME TO DO WHAT YOU ENJOY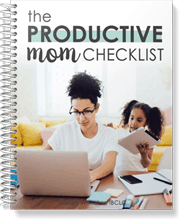 Feel like your to-do list is looming over you? Our Productive Mom Checklist gives you 10 simple ways to boost productivity so you can have more free time to spend doing things you actually enjoy!
I've heard a ton of buzz about these planners in blog land over the last couple years, and I had to see what all the hype was about. Fortunately, I won my planner in a giveaway at the first of the year, and I couldn't have been more excited because I was literally just about to buy one. #win! In my 2015 reader survey this year, many of you mentioned an interest in hearing more about cool products I love that you might also be interested in, so I thought this would be the perfect one to start with!
Disclosure: I'm not being compensated in any way to write this review, I just thought you guys would think this planner is as awesome as I do!
I'm very much a planner. I love lists, and I love being able to organize my life on paper. Maybe it's just another one of my many neuroses, but I just feel like my life just makes more sense if I write things down. I thought when I graduated from college I would be done with planners, that finally my life would be simple enough to get away without one. Nope! There are still doctor's appointments (I always have quite a few), shifts at work that change each week, meals to be planned, exercise to be recorded (because let's face it: if I want it to happen, it has to be planned), cleaning to do, prescriptions that need regular refilling, bills to be paid, vacations/time off to schedule, family gatherings to attend, blog posts to plan, and the list goes on.
Last year I was truly awful at keeping up with life's comings and goings, but having a quality life planner has kept me feeling a lot less frazzled so far this year. That said, let's talk about what this planner offers, yeah?
Check Out Erin Condren Planner Options: Want to see what other cover options Erin Condren has to offer? Check out their Amazon shop HERE!
THE QUALITY
When I was in high school and college, one of my biggest pet peeves was non-plastic notebooks. I hate when my notebook cover ends up bent, and if it's not made of plastic–or if it's that flimsy cheap plastic, this will invariably happen.
This planner, thankfully, is super durable. It's been thrown in a black hole my purse quite a few times now, and is holding up just fine! I've only been using it about a month, so I went ahead and read some other reviews online about the long-term durability of the cover/pages/tabs/binding, and have only heard good things. The front and back covers are made of a thick plastic, and the side tabs are laminated. The spiral binding is a reinforced coil-side binding and is super sturdy, not like those flimsy double wire ones, where the edges come undone and the back few pages fall out. You know what I'm talkin' about.
THE LAYOUT
The 7×9 planner includes a year at a glance calendar, two-page monthly spreads with a column for monthly goals and to-dos, and weekly spreads divided into morning, day, and night. The weekly spreads also include a column for weekly goals and to-dos, as well as columns under each day where you can jot down meal plans, lists, notes, thoughts, inspiration–whatever your heart desires! I use this section mostly for meal plan brainstorming, and I use the "morning" section of my day to plan my morning exercise for the week. The 2015 version of this planner also includes a clear snap-in ruler that doubles as a place holder. The last 20+ pages of the planner are blank and lined note pages in case you need a little extra space (not shown below).
The planner also includes inspirational quotes and cute colors to keep everything looking pretty!
In the back of the planner are some extra goodies, including 240 repositionable stickers to mark birthdays, holidays, special events and reminders, and also includes blank stickers you can use to write in custom reminders. The very back includes a pocket where you can throw in receipts, coupons, notes, bills, whatever you'd like! Inside you'll also find a booklet where you can write down contacts, addresses, birthdays & anniversaries. At first I kinda wished this piece of the planner wasn't a separate booklet but rather a few dedicated pages in the planner.
However, I have to admit it will be nice to just put the booklet in my new planner next year and not have to re-write all that info again in the future. The very back of the planner has a durable zip-lock pouch holding 12 gift labels and "Let's Get Together" cards.
Since I won my EC life planner, I also got a promo code on the back of the card below that I can use to buy a personalized, interchangeable cover! There are a ton to choose from and they're all super cute. If you purchase one of the EC "quick ship" calendars, you'll also get a similar promo code. I haven't decided if I'll take advantage of this yet, though, because I actually really like the quote on the front of the planner I received: The Best is Yet to Come. I feel like that perfectly embodies how I see this upcoming year!
THE BIG QUESTION
So…the answer to what I'm sure you're all wondering: Is the EC Life Planner really worth the price tag? YES! If you:
Love lists
Feel the need to write things down
Are in school/a working parent/a busy SAHM
Have kids with a ton of extracurriculars/school events
Always have a sh** ton on your plate
Are looking for a one-planner-fits-all solution to organizing your life to-dos
Love planning in style
Then you will absolutely love this planner and all it has to offer! If you:
Hate writing things down or never remember to
Don't like being bound to a list/are a free spirit
Have a super consistent/predictable routine
Don't like planning, especially not in style
Then I'll be honest: The EC Life Planner is probably not a good buy for you.
I personally love my EC Life Planner and am already looking forward to picking out next years'! Want to get one for yourself or for a friend?
GET YOUR $10 OFF PROMO CODE!
If you are a new EC customer and want to give the EC Life Planner a whirl, you can get $10 off your first order if you order HERE! You'll be prompted to set up an account to make your purchase, and you'll be emailed a promo code worth $10 off your first order.
Want to see what other cover options Erin Condren has to offer? You can check out their Amazon store HERE!
If you're a teacher, be sure to check out the EC lesson planners for teachers, too!
Find MORE TIME TO DO WHAT YOU ENJOY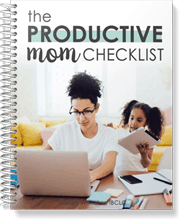 Feel like your to-do list is looming over you? Our Productive Mom Checklist gives you 10 simple ways to boost productivity so you can have more free time to spend doing things you actually enjoy!
If you enjoyed this post, be sure to check out our digital library of helpful tools and resources that help you organize your life, connect with your kids, focus on your well-being, and love being at home.
P.S. This blog post was originally published when my blog was called Essentially Eclectic.