Old-Fashioned Holiday Cookies
This post may contain affiliate links (full disclosure policy). As an Amazon Associate, I earn from qualifying purchases.
This is the "secret" family cookie recipe that we make every year. As a child, rolling out these cookies with my mom was a highlight of the season. I hope you will enjoy making the same memories with your family!
When you come from a place where there are basically two seasons, "summer" and "less summer," it can be hard to get into the Christmas spirit.
GET KIDS TO LISTEN AND HELP YOU MORE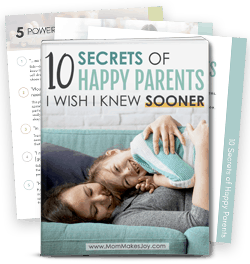 Learn the most effective phrase to get kids to listen so that power struggles and meltdowns don't leave you miserable. Become a happier mom while you raise more helpful kids who cooperate!
When it's November and 81 degrees outside, you feel a little silly busting out the hot cocoa, roasting chestnuts over an open fire, and rocking that trendy winter coat. So you find yourself relying on other social cues–When does the neighbor put his lights up? When do the candy canes go on sale?–to help get you in a holiday mood.
Fortunately, in Boston I've found it's much easier to know when the Holidays are upon us. When the water in your freshly-washed hair starts to freeze on your walk to work (true story), it's Christmas time!
So in celebration, I thought I would share with you my favorite Holiday cookie recipe. But first, a little background.
When my grandfather was young, he used to mow the lawn for a sweet little old lady that would bake him Christmas cookies every year. Every year these cookies were so good he would ask her for the recipe. It was a family secret, she said. It had been in her family since they had come over on the Mayflower, she said, and it couldn't possibly be given out. Every year he asked, and every year she said no.
Years later, before she passed away, this little old lady gave my grandfather two things: a single barrel shotgun her father carried with him as he rode in a covered wagon to Arizona, and this secret cookie recipe.
THE RECIPE
2 cups sugar
1 cup Crisco
2 unbeaten eggs
1 cup sour cream
1 tsp. vanilla
2 tsp. baking soda
1 tsp. salt
6 cups flour
DIRECTIONS
Step 1. Cream together sugar, crisco, eggs, and sour cream.
Of course, the original recipe did not call for Crisco or sour cream as we know it. Lard or butter was probably used in place of Crisco. And rather than sour cream, the original recipe called for "clabber" cream, which is made by letting unpasteurized milk stand until the cream rises to the top, leaving the milk below it thicker and slightly sour, just like sour cream. I thought that was interesting. Back to the recipe–which, by the way, makes about 5 or 6 dozen cookies. I usually make a half batch.
Step 2. Mix together your flour, sugar, soda and salt before adding it to your wet mix.
Step 3. When your dough starts to get flakey (like below), its time to toss the wooden spoon and mix it together with your hands until you have a nice big ball of dough and all the flour is mixed in.
Step 4. Roll out your cookies on a flour surface until your dough is about 1/4″ thick. You're going to obviously want to flour your rolling pin, and maybe even your cookie cutters.
In the past I would always make a huge floury mess when I made these, so I tried rolling them out on parchment paper and that works wonderfully. It is kind of hard to start out the rolling because the paper wants to move around, but you could tape it down or something. Put it this way: I liked it better than having to clean off a mess of residual dough and flour when I finished.
Step 5. Bake your cookies at 400 degrees F for just about 5 minutes, maybe 6. The bottom of your cookie shouldn't be much darker than this:
Once these have cooled, I make a simple buttercream frosting using butter, powered sugar, milk, vanilla extract, and food coloring, and I decorate accordingly!
As it turns out, and as I'm sure you've guessed, this recipe is not actually a secret (although I'm sure my family would swear otherwise!). And although I can't guarantee it actually came over on the Mayflower, can I say with a pretty high degree of certainty that these cookies are mighty delicious!
So fear not, Friends! No secrets were harmed in the posting of this recipe :)
Merry Christmas and Happy Holidays! I hope you enjoy making these old-fashioned, roll-out holiday cookies!
GET KIDS TO LISTEN AND HELP YOU MORE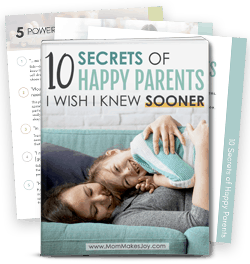 Learn the most effective phrase to get kids to listen so that power struggles and meltdowns don't leave you miserable. Become a happier mom while you raise more helpful kids who cooperate!
If you enjoyed this post, be sure to check out our digital library of helpful tools and resources that help you organize your life, connect with your kids, focus on your well-being, and love being at home.