Spooky Halloween Spider Soap
This post may contain affiliate links (full disclosure policy). As an Amazon Associate, I earn from qualifying purchases.
Happy Halloween! These spooky spider soaps are a great gift, especially for kids! Make hand washing extra fun this fall with this melt-and-pour tutorial.
Find MORE TIME TO DO WHAT YOU ENJOY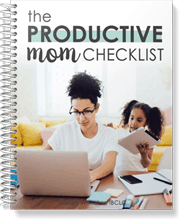 Feel like your to-do list is looming over you? Our Productive Mom Checklist gives you 10 simple ways to boost productivity so you can have more free time to spend doing things you actually enjoy!
Happy October! I adore fall time, but now that we're back in sunny Arizona, fall just isn't quite what it used to be when we lived in Boston. So I thought I'd try to get festive, at least with my soap!
This spooky spider soap uses Stephenson Personal Care's HCVS Vanilla Stabilizing Soap Base, which is a super clear/transparent base that has the added benefit of pre-added vanilla stabilizer.
Vanilla based fragrances will often discolor or darken your soap, so adding a vanilla stabilizer helps keep your soap the color it was meant to be. With Stephenson's HCVS formula, there's no need to purchase additional vanilla stabilizer to add to your soap! I thought I would test out this awesome base for this soap project, and I LOVED how my spider soap turned out.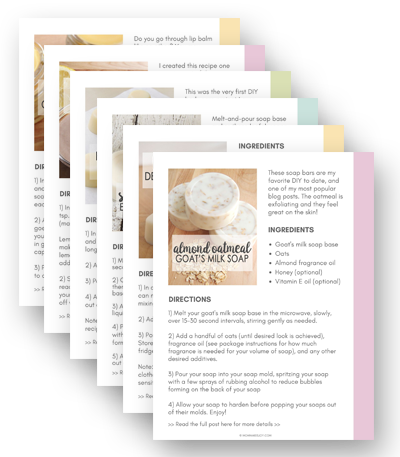 Want a copy of the DIY bath & body recipes my readers love most?
Get my top 6 recipes in printable PDF format sent straight to your inbox!
YOU WILL NEED:
HOW TO MAKE SPOOKY SPIDER SOAP:
Step 1. As usual, begin by melting down your soap base in 15-30 second intervals in the microwave until completely melted. Cutting your base into smaller cubes will help speed along the melting process. Be sure to always keep an eye on melting soap to avoid it bubbling over and losing moisture! I only made three fun-sized bars for this soap project, so I only had to melt down about 8 ounces of soap base.
Step 2. Gently stir in your Shimmer Black Color Block soap colorant. I LOVE these soap colorants! Unlike water-based/liquid soap colorants, the colors in these color blocks won't bleed! Brambleberry makes a wide variety of color blocks to choose from, but I went with their shimmer black to create a spooky, foggy look to the soap. For the 8 ounces of soap I made, I only needed a tiny sliver (we're talking maybe .1 ounces or less!) of color block. Too much color block and you might not see the spiders, so it's better to err on the side of not enough colorant, because you can always add more later. Stir this in until the color block sliver is completely melted before adding more colorant if necessary. The shimmer gives the soap a cool "foggy" effect.
Step 3. Add your fragrance oil. I received a complimentary sample of Brambleberry's Vanilla Rosewood Fragrance Oil with my order (they always send out free samples–it's an awesome way to try out new fragrances!) so I thought I would give that a sniff and see if it would work for this soap. My verdict? It's perfect. Brambleberry describes it best on their website:
The main notes of this fragrance are a very bright and bold cedar and fresh cut wood. Followed by subltly earthy and sweet undertones finishing out with musk notes. This fragrance was a winner in the Fall 2014 Soap Panel.
One thing I love about Brambleberry is that their website has a fragrance oil calculator! It tells you exactly how many ounces of fragrance oil to use depending on the type of DIY body care item you're making (cold process soap, lotion, melt & pour, etc.) and the volume you're making as well. Then the result it gives you is broken down into how strong you'd like the fragrance to be. For this project, I used 1 tsp. of Vanilla Rosewood Fragrance Oil, which I was able to determine using this handy dandy calculator!
Step 4. Pour a thin layer of soap into the bottom of your bar mold (I can never seem to get great pictures of this step since it is important to work quickly–you've got soap base drying!) After you have done this, pop in your spider/spider ring upside down (this way when you pull out the soap bar, the spider is facing the correct direction) and continue to fill up your soap bar mold until full. Take note that if the ring isn't very weighty, you may need to hold it in place to keep it from floating away from the center of your bar.
Step 5 (optional). Since this is a clear soap base, it is helpful to spray the bottoms of your freshly poured soap with rubbing alcohol. This helps pop some of those pesky little bubbles that like to form at the bottom of the soap.
I hope you enjoyed this spooky spider soap project! Stay tuned for more! And be sure to check out Stephenson Personal Care and Brambleberry if you are looking for some great soapy inspiration :)
Find MORE TIME TO DO WHAT YOU ENJOY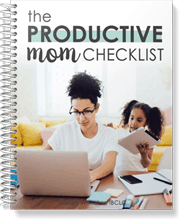 Feel like your to-do list is looming over you? Our Productive Mom Checklist gives you 10 simple ways to boost productivity so you can have more free time to spend doing things you actually enjoy!
If you enjoyed this post, be sure to check out our digital library of helpful tools and resources that help you organize your life, connect with your kids, focus on your well-being, and love being at home.