DIY Christmas Tree Soap – A tutorial!
This post may contain affiliate links (full disclosure policy). As an Amazon Associate, I earn from qualifying purchases.
Okay, okay, I know. Another soap post so soon?
I couldn't help myself, guys. These just turned out too cute! Plus, those Halloween Soaps were such a hit, I thought you guys might like some Christmas tree soap inspiration before it was too late (Christmas is only 9 days away people!!) These little soap bars were super easy to make and work great as party favors, stocking stuffers, or Secret Santa/Neighbor/Teacher holiday gifts!
Today's project utilizes Stephenson's Crystal WST soap base (an old favorite) and their Crystal SLES & SLS free base. What is Crystal SLES & SLS free base, you ask? Great question. This perhaps lesser known Stephenson base is used to make transparent soap bars, but it doesn't contain Sodium Laureth Sulfate or Sodium Lauryl Sulfate, which are surfactants often found in soap bases that can sometimes irritate very sensitive skin.
(Note: Stephenson also carries an opaque (white) soap base that is SLS free, but for this project I simply used the regular Crystal WST soap base I had on hand.)
Now although I don't have sensitive skin, I thought I would showcase this base anyway since it produces such beautifully transparent soap bars, and just in case you've been on the lookout for an SLES and SLS free soap base to experiment with!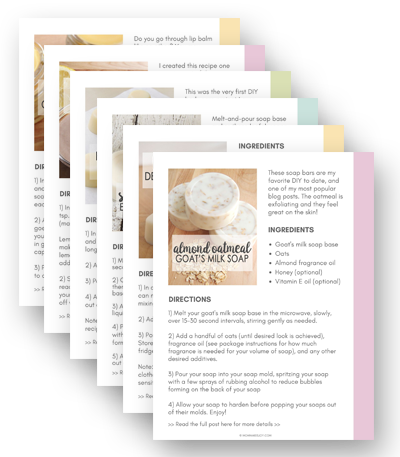 Want a copy of the DIY bath & body recipes my readers love most?
Get my top 6 recipes in printable PDF format sent straight to your inbox!
YOU WILL NEED:
Step 1. Melt down your Crystal WST (white opaque) soap base.
PRO TIP: To figure out how much base you'll need to fill your Christmas tree insert mold or your soap bar mold (later), you can fill your mold with water, and then pour that water into a measuring cup to see how much liquid base will be needed to fill each one, given the number of bars you want to make.
Cut your base into cubes, toss them in a glass bowl and melt them in the microwave at 15-30 second intervals, stirring between each interval, until your base has melted. Pour your melted base into your Christmas tree mold, allowing them to solidify:
Step 2. Melt down your clear soap base just as you melted down your white soap base. Cut it into cubes and microwave at 15-30 second intervals, stirring between each interval.
Step 3. Color your clear soap base! I did this in two batches; my first batch I made my clear base green and my second batch I made red. Adding more or less colorant will give you a deeper green and red.
Step 4. Working one bar at a time, pour a bit of clear soap base into the bottom of your mold before then placing your Christmas tree insert into the mold face down. This ensures that you have a nice layer of soap filling the front of the bar. Allow your bars to cool. Then finish pouring your clear base into the mold until the tree is covered.
PRO TIP: Usually I would recommend a soap colorant that is not water based so that the colors do not bleed. However, I've found that when putting a white insert into a colored clear soap base, the bleeding is minimal–or possibly doesn't happen at all. I can't actually tell the difference!
I made both red and green soap bars, but I think I like the green ones best. What do you think?
I hope you enjoyed this soap making tutorial! Stephenson Personal Care is coming out with some awesome BRAND NEW products in 2015 that you will definitely want to stay tuned for, so be on the lookout :)
Love,
Gabby
P.S. DISCLOSURE: I was not compensated to write this post; however, I did receive a free sample of Stephenson's Crystal WST and Crystal SLES & SLS Free soap base to use for this project. Rest assured, I only endorse products and brands I use, trust, and would recommend to a friend! This post contains affiliate links, meaning I will receive a small commission on products purchased through these links at no extra cost to you. Please see my FAQs and disclosure policy for more information. Thank you for your support! :)