Homemade Restaurant-Style Spanish Rice
This post may contain affiliate links (full disclosure policy). As an Amazon Associate, I earn from qualifying purchases.
Looking for a great restaurant-style Spanish rice recipe? My aunt's recipe was a hit in her Mexican restaurant! Read on for the recipe.
There are some foods I associate with different times in my life. My family's oriental cabbage salad reminds me of summer barbecues when I was a kid. Pumpkin spice krispie treats obviously remind me of fall. And so does, for some reason, Spanish rice.
Find MORE TIME TO DO WHAT YOU ENJOY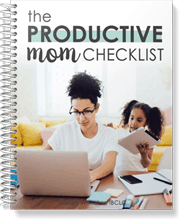 Feel like your to-do list is looming over you? Our Productive Mom Checklist gives you 10 simple ways to boost productivity so you can have more free time to spend doing things you actually enjoy!
I realize Spanish rice has absolutely nothing to do with fall whatsoever, but I have this really distinct memory of my mom making enchiladas, beans, and Spanish rice one fall afternoon after school in high school. I think being from Arizona has something to do with that weird Spanish rice-and-fall association: There are not a lot of visual cues that fall has arrived when it happens in Phoenix, so your brain has to latch on to some other kind of cue. And mine latched on to Spanish rice! Also, Spanish rice is kind of orangey-red, so I guess there's that.
So I thought it would be fitting, with fall just around the corner, to share with you my family's Spanish rice recipe so you can enjoy it too! This recipe has been adapted from the one my aunt, who is a professional chef, served in her restaurant when she lived overseas, so you know it will be good!
There are a lot of Spanish (or Mexican) rice recipes out there, but what makes this one extra good (in my opinion) is that it isn't mushy—this is a dish that can easily get a mushy texture if your ratios are off, and the way this is cooked, if done properly, will keep that from happening. The other thing I love about this recipe is it will never need to be seasoned after-the-fact! I can't tell you how many times I've had a bland bowl of Spanish rice just begging for some flavor. Well not with this recipe :)
THE RECIPE
1 small yellow onion, peeled, washed and pureed in a food processor
2 cloves fresh garlic, peeled, washed and pureed with the onion
1.5 Tbsp tomato paste
1 cup basmati rice
1 Tbsp. mild chili powder
1-3/4 cups of water
1 tsp. cumin
Salt and pepper to taste
1/4 cup very finely diced green bell pepper (optional)
Small handful of cilantro (optional garnish)
Lemon wedge
A word on rice: The type of rice you use can affect the stickiness of your rice in the end. Different kinds of rice require different water-to-rice ratios, and getting this ratio wrong is what will leave you with mushy rice. Basmati rice works great with this recipe since it's known for being fluffy and light. Jasmine rice and long grain rice work okay. Brown rice and wild rice should not be used for this recipe, and my aunt calls parboiled rice "a sin to all rice," so maybe don't use that either ;) To each her own!
This recipe makes a good amount of Spanish rice for two people, so you may want to double it!
HOW TO MAKE RESTAURANT-STYLE SPANISH RICE
Wash and peel your small yellow onion and garlic cloves and puree them in a food processor, being careful to note how strong (for lack of better word) your onion is and adjusting accordingly.
For example, my onion was quite powerful, so I only used 3/4 of it. I vastly prefer the onion pureed so that you get its great flavor without risking biting into a chunk of onion later—I hate that!
Set your pureed onion and garlic aside. Rinse/soak your rice.
This removes some of the excess starch from the rice which can contribute to making the rice a bit sticky later. Naturally and per usual, I forgot to do this step. My rice still turned out just fine, so if you forget too, don't worry!
Add 2 Tbsp. olive oil to your skillet and toast the rice in the olive oil for 2-3 minutes. Add in the chili powder and toast for another minute or so. The grains of rice will start to appear a brighter white color and some may be a bit browned as well. Pour on your pureed onion and garlic, add your cumin, tomato paste, and water, and then stir in the tomato paste evenly so that it doesn't clump.
My aunt always uses tomato paste instead of tomato sauce and/or diced tomatoes as you might see in other recipes; the paste gives the rice the same great tomato flavor without changing the viscosity of the water that will eventually be absorbed into the rice. This, once again, helps keep the rice light and fluffy.
It shouldn't take long to mix in the tomato paste, so once that's done it's time to season the water. Add salt and pepper to taste.
Seasoning the water is the key to making sure your dish doesn't turn out bland—the way the water tastes before the liquid is absorbed into the rice is the way your rice will taste when it's done! If your water tastes bland, your rice will too.
Stir your rice occasionally and let it cook. About five minutes before it looks like it will be ready, you can add very finely diced (about 1/4" dice) bell pepper and/or celery and mix it in. If you need to have solid tomato in your Spanish rice to feel human, you can add drained diced tomatoes here as well and garnish with cilantro.
Before serving, squeeze fresh lemon juice from a wedge over the rice, and enjoy!
Find MORE TIME TO DO WHAT YOU ENJOY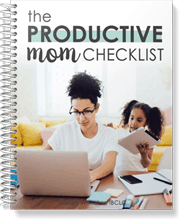 Feel like your to-do list is looming over you? Our Productive Mom Checklist gives you 10 simple ways to boost productivity so you can have more free time to spend doing things you actually enjoy!
If you enjoyed this post, be sure to check out our digital library of helpful tools and resources that help you organize your life, connect with your kids, focus on your well-being, and love being at home.