10 Minute Gingerbread Man Soap Bars
This post may contain affiliate links (full disclosure policy). As an Amazon Associate, I earn from qualifying purchases.
Today I'm going to share with you how to make easy gingerbread man soap bars in 10 minutes! This is a super quick and easy soap project, and I don't know about you, but for me "quick" and "easy" are musts when Christmas is just around the corner!
This soap project uses a soap base that is brand new in 2015 for Stephenson: African Black Soap. This soap base is named after its key ingredient: Raw African Black Soap from Ghana (sometimes simply referred to as "black soap" after its dark color). Renowned for its natural cleansing properties, this soap is traditionally made with raw shea butter and coconut oil and is full of naturally derived minerals and antioxidants. Its dark, rich color is derived naturally during its processing.
Stephenson carefully incorporated this fantastic soap into their melt-and-pour African Black Soap base. It's paraben free, sulfate free (no SLES or SLS) and has a neutral scent perfect for the addition of your own fragrance oils. You're going to love it! Let's get stared, shall we?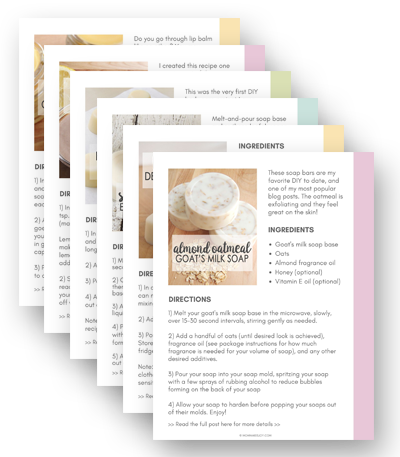 Want a copy of the DIY bath & body recipes my readers love most?
Get my top 6 recipes in printable PDF format sent straight to your inbox!
YOU WILL NEED:
DIRECTIONS
Step 1. Melt down your soap base! Using the mold I used, I only needed 8 ounces of soap base to make four gingerbread man bars. This amounts to 1/4 of your 2 lb. tub of African Black Soap. Cut your base into smaller squares and melt them down in a glass bowl in the microwave for 15-30 second intervals, stirring between each interval, until your base is completely melted.
You'll notice out-of-the-tub the soap base is a lot less "black" than you'd expect, but no worries! The soap darkens during the melting process and will eventually turn a beautiful, rich, dark brown color.
Step 2. Add your fragrance oil and cinnamon. Normally when adding a powder to a soap base, I would recommend first mixing that powder with a little bit of vegetable glycerine in order to keep the powder from clumping and not mixing properly when added to the soap base. However, because of the high glycerine content of this soap base, you can add the cinnamon straight to the soap base! I sprinkled cinnamon in a little at a time and stirred until I could smell it in the base–when all was said and done, I added a total of about two teaspoons of cinnamon.
Step 3. Pour your soap base into your soap mold and allow to cool. You may consider spritzing some rubbing alcohol over your freshly poured soap base to minimize the bubbles that like to form in hot base. And voila! Your gingerbread man soap is done!
I hope you enjoyed this gingerbread man soap project! Stay tuned for more soap projects in the coming year!
Love,
Gabby
P.S. DISCLOSURE: I was not compensated to write this post; however, I did receive a free sample of Stephenson's African Black Soap base for use in this project. Rest assured, I only endorse products and brands I use, trust, and would recommend to a friend and will only ever provide my 100% honest feedback when using and reviewing samples! This post contains affiliate links, meaning I will receive a small commission on products purchased through these links at no extra cost to you. Please see my FAQs and disclosure policy for more information. Thank you for your support! :)