DIY Peppermint Cocoa Lip Balm
This post may contain affiliate links (full disclosure policy). As an Amazon Associate, I earn from qualifying purchases.
A version of this post originally appeared as a guest post on The Girl Creative!
I have a confession that has been weighing on me for some time now: I am a slave to my mint lip balm. In the last few months I've gone through an embarrassingly large number of them to the point where it's actually starting to hurt my wallet.
BUT it's an addiction I'm not ready to overcome yet. Hey–I live in a dry climate! Girl needs her lip balm.
So what's a cost-conscious mom to do? Make your own!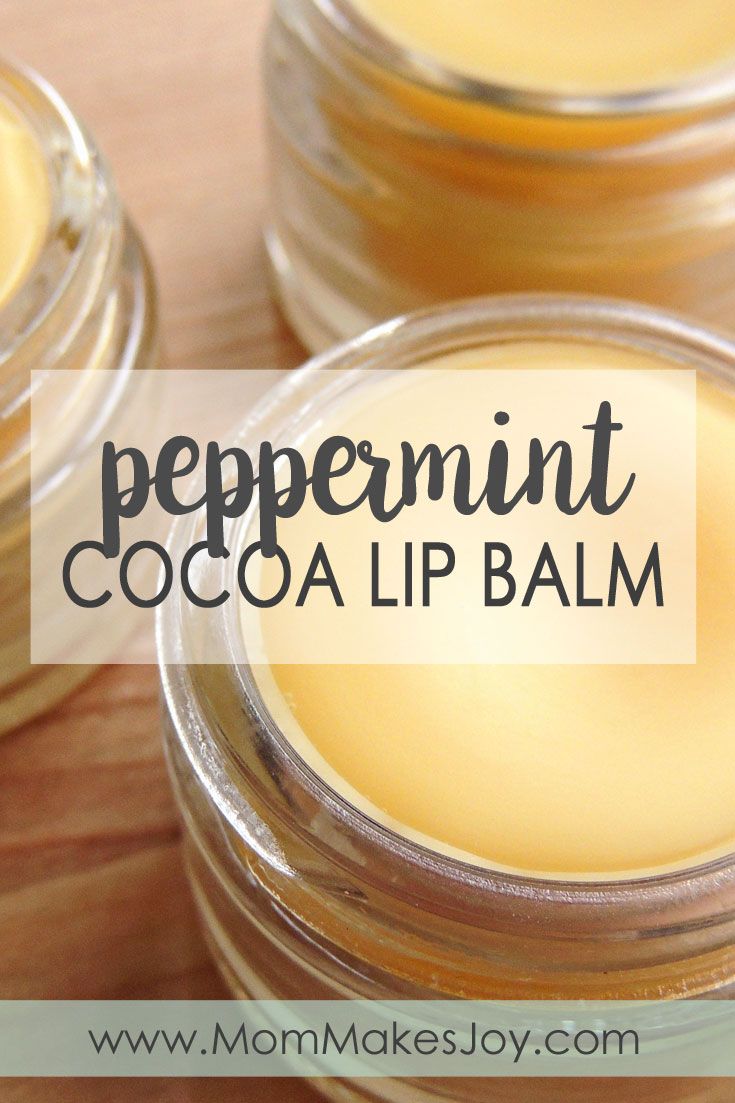 This lip balm is, in a word, awesome. The ingredients are all natural and organic, it leaves your lips moisturized, it smells divine, and it can me made for a fraction of the cost of other lip balms on the market. Here's how I made mine:
INGREDIENTS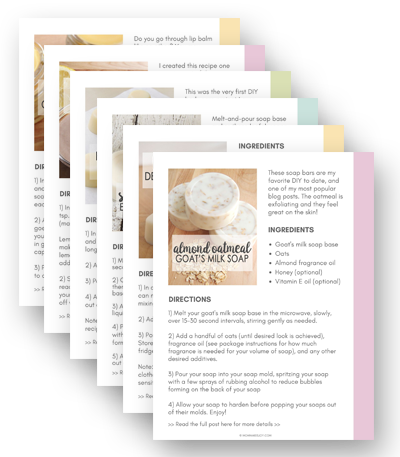 Want a copy of the DIY bath & body recipes my readers love most?
Get my top 6 recipes in printable PDF format sent straight to your inbox!
DIRECTIONS
Step 1. Gather your ingredients. You'll need a 1:1:1 ratio of beeswax, cocoa butter and coconut oil if you'd like to store your balm in a tube. That means if you'd like to make 3 ounces of lip balm, you'd need 1 ounces of each of these three main ingredients. To make 3 ounces of lip balm, I also added 2 capsules of Vitamin E. You can add peppermint essential oil to taste–er–smell. Once it smells pepperminty, you're good.
If you'd prefer to put your lip balm in a tub-style container, you may consider adding just a bit more coconut oil to make your final product a bit less firm.
Step 2. In a double boiler, melt your beeswax, then your coconut oil, then your cocoa butter. It's important you do this in a double boiler and not the microwave so that you don't accidentally scald or burn these ingredients. Don't have a double boiler? You can get one here or you can DIY your own by putting a small metal or glass bowl over a saucepan like so:
Fill the saucepan with water and allow it to boil on low such that the water doesn't reach the bottom of your metal or glass bowl. When it comes time to empty this bowl, just be aware that there will be condensation on the bottom of your bowl that will need to be wiped off (careful, it's hot!) so that it doesn't wind up in your lip balm.
Step 3. While these things are melting, add the contents of two Vitamin E capsules to your mix, as well as several drips of peppermint essential oil (how much is up to you!)
Step 4. Turn off the stove and pour your lip balm mix into the container of your choice! I used glass, but these ones would work really well too.
Step 5. Let your lip balm cool to room temperature before using it. I was super tempted to touch them while they were cooling to see if they were ready to use yet, but avoid the temptation! Leave the room! That way they'll look perfect when you come back to them:
Step 6. Ugh, clean up. This is the only downside to making your own balm! I recommend wiping out your bowl with a paper towel ASAP to make cleaning easier. NEVER pour any leftover mix into the drain, unless you feel like cleaning a clogged sink.
Step 7. Enjoy!!
I would love to hear how things go if you make this lip balm, so feel free to leave a comment below!

Love,
Gabby
P.S. DISCLOSURE: This post contains affiliate links, meaning I will receive a small commission on products purchased through these links at no extra cost to you. Please see my FAQs and disclosure policy for more information.