Jasmine Dead Sea Salt Soap & Body Scrub
This post may contain affiliate links (full disclosure policy). As an Amazon Associate, I earn from qualifying purchases.
Several weeks ago I was contacted by an amazing company in the UK, Stephenson Personal Care, that makes soap bases for melt and pour soap. If you remember from my first attempt at soap making, actually making soap from scratch kind of terrifies me, so when the lovely folks at Stephenson asked if I would like to try their melt-and-pour soap base, I gave them a big heck yes.
So they sent it on over and I got to work! Today's project uses their Crystal ST Clear Soap Base. Stephenson is famous for their Crystal Melt and Pour Soap Base, so I was particularly excited to give it a go! To make your jasmine Dead Sea salt soap, here's what you do:
INGREDIENTS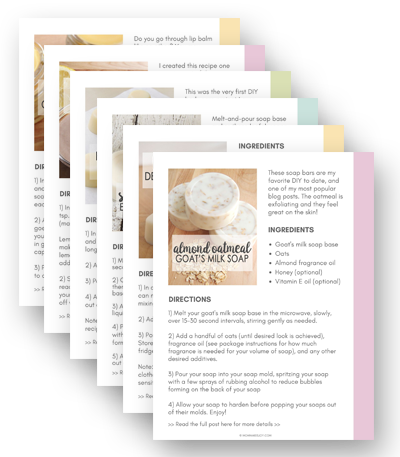 Want a copy of the DIY bath & body recipes my readers love most?
Get my top 6 recipes in printable PDF format sent straight to your inbox!
DIRECTIONS
Step 1. Gather your ingredients. I picked up some Dead Sea salt (below) from my local naturals store in here in Cambridge. I chose Dead Sea salt in particular because the high concentration of magnesium in this particular kind of salt (which is more dense than normal sea salt) is said to have therapeutic effects, including improving skin hydration and reducing inflammation, as well as a host of other benefits.
Step 2. Cut your soap base into small cubes. The base comes in a two pound block, so each quarter of the base is approximately 1/2 a pound or eight ounces. If you don't have a food scale or other way of measuring how many ounces of soap you need (depending on the size/volume of your soap molds), knowing this is helpful.
The base is easy to cut through–it's almost like slicing a thick block of cheese–and you can cut it with a butter knife.
Step 3. Place your soap base in a glass bowl and pop it in the microwave. Here you want to be careful, as overheating the soap can cause the soap to lose its moisture.
I heated the soap in 15 second intervals, stirring gently between each interval, until it was melted. Stirring too vigorously can lead to bubbles forming in your soap, so be careful! As you can see, I was a little overzealous in my stirring…but that's okay! I ended up using a spoon to scoop off the part of the soap that had gotten a little too bubbly.
Step 4. Add your soap coloring (which is different from food coloring–it's specifically designed for soap), your jasmine fragrance oil, and your Dead Sea salt. Now, here is where things got a little tricky. This was my first time using Dead Sea salt in melt-and-pour soap base, and for whatever reason it did not occur to me that if you place salt in a bowl of hot soap base, the salt would melt kind of awkwardly and cloud up my soap…
…but I stirred everything together and poured my soap base into my mold anyway, figuring I would just see what happens. When the soap dried, I was pleasantly surprised to see that my soap turned out AWESOME! It wasn't transparent like I originally (and mistakenly) imagined it would be, but it wasn't quite opaque either–instead, up close it looks almost crystalized. In the end, I was glad I went with the clear base for this soap.
A HAPPY ACCIDENT
Another thing I didn't know about working with Dead Sea salt and soap base is you will sometimes find a thick "sludge" (for lack of better term) left over in your mixing bowl after you've poured your soap base into the molds. I'm not entirely sure, but I suspect this happens due to there being too high of a concentration of Dead Sea salt at the bottom of the bowl–perhaps I used too much Dead Sea Salt?
At first, I thought I would try to pour these leftovers into the mold and see if it would solidify, but it doesn't–there is something about high concentrations of Dead Sea salt that will keep any soap base from solidifying completely (according to what I read online later). If you were to accidentally get these extra-salty leftovers in your soap mold, you would have a bar of soap with a soft center–kind of weird!
If this happens to you too, do not fear! And don't throw away those leftovers! I didn't want to waste my leftover soap base, so I put it in a mason jar and whipped it with a spoon. And viola! I found myself with a creamy, jasmine-y, body scrub! If lotion and salt scrub and a bar of soap had a baby, this would be it:
This body scrub is divine! It feels great on your arms and legs, washes off neatly in the shower, and leaves your skin feeling moist. In the end, I'd say this soap experiment was a success! The soap base was marvelous to work with, the soap bars turned out great, and my accidentally-made body scrub was a fantastic surprise.
I hope you enjoyed this tutorial, and I would love to hear some of your ideas for more soap recipes! Feel free to drop off your ideas in a comment below, or just leave some comment love if you enjoyed the post!
Love,
Gabby
P.S. DISCLOSURE: I was not compensated to write this post; however, I did receive a free sample of Stephenson's Crystal ST Clear Soap base to try out. Rest assured, I only endorse products and brands I use, trust, and would recommend to a friend!This post contains affiliate links, meaning I will receive a small commission on products purchased through these links at no extra cost to you. Please see my FAQs and disclosure policy for more information. Thank you for your support!