DIY Whipped Chocolate Bath Butter
This post may contain affiliate links (full disclosure policy). As an Amazon Associate, I earn from qualifying purchases.
There is a chill in the air here in Boston, which got me thinking this morning about how much I could go for a hot chocolate with breakfast–yum! Unfortunately, hot chocolate isn't the healthiest way to start the day, so I figured I would have to get my chocolate fix somewhere else.
That is why today I'm going to share with you how to make a whipped chocolate bath butter using Stephenson Personal Care's Crystal OPC base, otherwise known as Foaming Bath Butter. This is one of my absolute favorite Stephenson products—it's super easy to work with and makes creating fluffy whipped scrubs an absolute breeze!
To make this decadent chocolate bath scrub, you will need only three ingredients: white sugar, cocoa powder, and Stephenson's Foaming Bath Butter:
Stephenson's foaming bath butter is an incredibly flexible product. With just this one base you can make sugar scrubs, salt scrubs and body soufflés, and all that's needed to make each creation unique is the addition of a few simple ingredients.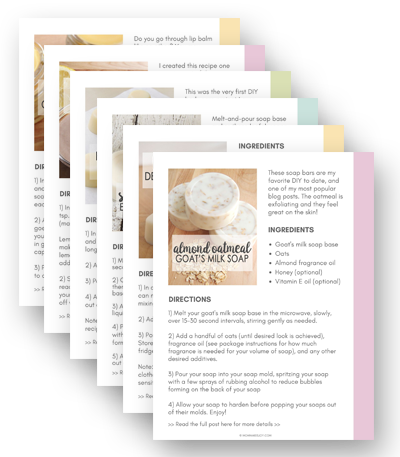 Want a copy of the DIY bath & body recipes my readers love most?
Get my top 6 recipes in printable PDF format sent straight to your inbox!
Last time, I added mint green tea leaves and peppermint essential oil to create a whipped mint sugar scrub. This time I opted for cocoa powder. Cocoa is rich in antioxidants and is often used in skin care products like face masks and body butters. I figured, why not try it out and see what happens? So I threw this chocolate creation together in a matter of minutes and couldn't have been happier with the results!
Step 1. To make your own whipped chocolate bath butter, first measure out your foaming bath butter base. I used about ¾ cup.
Step 2. Once your base is measured out, you can begin whipping it up. When I first used this base a few months back, I'll admit I was a bit skeptical. As you can see in the photo above, when taken fresh from the packaging the foaming bath butter base is pretty thick with a consistency a bit like cold butter (but a bit stickier), so I wasn't sure how well it would whip up. Have no fear! This base is formulated to smooth out and fluff up into an amazing whipped consistency with just a quick spin of a hand mixer. See?
Step 3. At this point, I added white sugar to the mix. While you don't absolutely need to add sugar, I prefer the look and feel of the base with the sugar mixed in. It (in my opinion) helps the base look even more fluffy/whipped, and the granules make for a great exfoliant.
Below is what the base looks like with added sugar mixed in. You can add up to 50% sugar to your mix. In other words, if you are using 1 cup of foaming bath butter base, you can add up to 1 cup of sugar to the base.
Step 4. From here, all that is left to do is add your cocoa powder.
I simply eyeballed the amount of cocoa powder I used, adding it a little at a time until I got my body butter looking as chocolately as I wanted.
I used about ¼ cup of cocoa powder mixed with about ¾ cup foaming bath butter base and ½ cup sugar, but you can play around with these proportions. Sometimes DIY body care is more of an art than a science.
Step 5. Mix it all in using a hand mixer or, if you're making a large batch, a stand mixer. Your body butter will turn fluffy and a chocolately light brown color. The cocoa powder will give it a gentle chocolate scent. The scent of the foaming bath butter base is neutral, but does have a faint "clean" sort of smell to it. At this point, you may consider adding a chocolate or other fragrance oil to your mix if you want to give your body butter an added kick.
Once it's all mixed in, you will have this:
I had to keep reminding myself it wasn't frosting! It looked good enough to eat! Wouldn't this make such a great gift?
I hope you enjoyed this tutorial on how to make a whipped chocolate bath butter! What's your favorite homemade bath product?
Love,
Gabby
P.S. DISCLOSURE: I was not compensated to write this post; however, I did receive a free sample of Stephenson's Crystal OPC base to use for this project. Rest assured, I only endorse products and brands I use, trust, and would recommend to a friend! This post may contain affiliate links, meaning I will receive a small commission on products purchased through these links at no extra cost to you. Please see my FAQs and disclosure policy for more information. Thank you for your support!