Oatmeal and Shea Butter Soap + DIY Soap Inserts Tutorial
This post may contain affiliate links (full disclosure policy). As an Amazon Associate, I earn from qualifying purchases.
This oatmeal and shea butter soap is super easy to make with melt-and-pour soap base and just a few other ingredients! Here's how you can make it too:
I'm thrilled to be sharing with you today a soap project I made using Stephenson Personal Care's NEW and EXCLUSIVE Crystal Oatmeal and Shea Butter Soap Base.
Find MORE TIME TO DO WHAT YOU ENJOY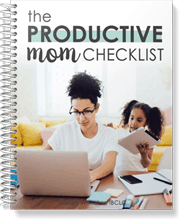 Feel like your to-do list is looming over you? Our Productive Mom Checklist gives you 10 simple ways to boost productivity so you can have more free time to spend doing things you actually enjoy!
I also got the chance to give their new Microwavable Tub packaging a whirl, so I can give you the inside scoop on how ridiculously easy this packaging makes melt-and-pour soap making!
Stephenson's Crystal Oatmeal and Shea Butter soap base is made with (you guessed it) oatmeal, which your skin will truly thank you for. Oatmeal is amazing for the skin. It:
Has anti-inflammatory properties and works well for most skin types, including sensitive skin
Contains saponins, which are a mild cleansing agent
Helps treat acne, eczema, rosacea and rashes
Has exfoliating properties that remove dead skin cells and toxins from the skin, improving skin tone and texture and smoothing out blotchy areas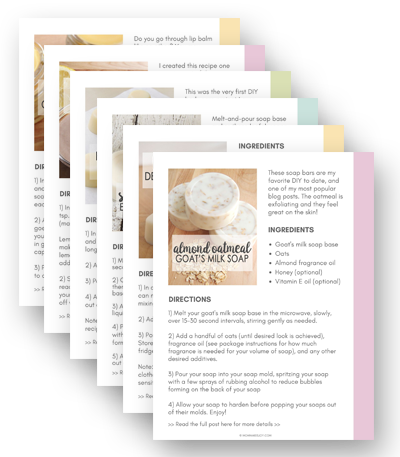 Want a copy of the DIY bath & body recipes my readers love most?
Get my top 6 recipes in printable PDF format sent straight to your inbox!
In addition to utilizing the healing properties of oatmeal, this soap base is enriched with shea butter, which is an unparalleled moisturizer and full of vitamin A. And that's not all! This base also has a great suspending formulation, meaning any additives you decide to put in your soap won't sink to the bottom or float to the top! Unlike other suspending soaps, you won't need to keep mixing your soap as it cools in order to keep your additives where you want them.
See what I mean? Those "confetti" pieces stayed right where I put them!
For this soap project, I decided to keep things pretty simple since honestly, the soap base is pretty fantastic on its own and there isn't a ton you really need to add to it, except for maybe a fragrance. I have always wanted to give soap inserts a try (those pink things that look like big confetti pieces in the soap) since they've always seemed like a fun, cute way to jazz up an otherwise plain bar of soap. So I figured I would put that Suspension Formulation to the test!
LET'S GET STARTED!
I made my own custom-sized inserts by first melting down some Stephenson Crystal white soap base and coloring it pink. (PRO TIP: I recommend coloring your soap base with a non-water-based/water-soluble colorant! Otherwise over time your color may bleed into parts of the soap you don't want colored). I poured my melted soap base into my 1lb soap loaf mold (I love this mold–it's a great size for small batches of soap) and then used a smooth edge soap cutter to create little rectangular rods of soap that are exactly the right length for my mold.
Next, I melted down my Crystal Oatmeal and Shea Butter Base. Stephenson recently did a design overhaul on their packaging, and I am loving the changes:
Very sleek, yes? The key to getting this guy open is to pull off the little tab there on the rim:
Once you break that off, it's super easy to open the tub (otherwise, you may find yourself trying to pull off a part of the tub that's not meant to come off!). The base smells wonderful straight from the tub–a clean smell with just a hint of oatmeal.
You can place your tub directly into the microwave (as shown below) and begin the melting process. I would recommend melting your base in 15 second intervals, stirring periodically, for approximately three minutes depending on level of heat your microwave uses.
Melting your base in intervals will help keep your soap base from overflowing as it melts (this is true for just about every melt-and-pour base). The rim of the microwavable tub does a pretty good job of catching any little bit of base that might make its way down. When your base is melted, it will look like this:
Next, add your fragrance oil, if desired, and stir until it's well mixed in. From here, all that is left to do is pour your base into your mold and add your inserts. To do this, I poured in a thin layer of soap base into the bottom of my mold before laying my rods flat on top of that layer (your rods don't need to be laid perfectly–in fact, I put them in at an angle to give my soap a more unique look). I then poured a new layer of soap base over those rods. I layered my rods and soap base layers until my loaf mold was full.
From there, all that is left to do is wait until your loaf of soap has dried! If you find the top of your loaf has tiny air bubbles, a quick spritz of rubbing alcohol is all you need to get rid of them. Once your loaf has dried, you can use a soap cutter (I used a crinkle soap cutter) to slice your mold into individual bars: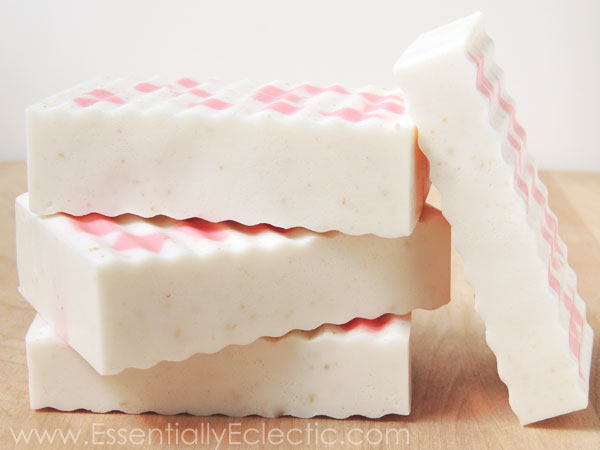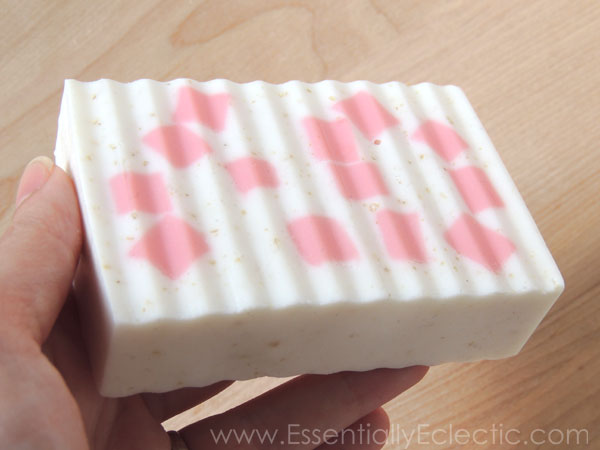 And that's all there is to it!
Find MORE TIME TO DO WHAT YOU ENJOY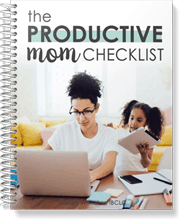 Feel like your to-do list is looming over you? Our Productive Mom Checklist gives you 10 simple ways to boost productivity so you can have more free time to spend doing things you actually enjoy!
If you enjoyed this post, be sure to check out our digital library of helpful tools and resources that help you organize your life, connect with your kids, focus on your well-being, and love being at home.